Transform
From SmashWiki, the Super Smash Bros. wiki
Jump to navigation
Jump to search
This article is about Zelda and Sheik's down special in Melee and Brawl. For Pokémon Trainer's down special, see Pokémon Change. For Pyra and Mythra's down special, see Swap. For info on the transformation of stages, see Stage transformation.
Transform (シークチェンジ, Sheik Change and ゼルダチェンジ, Zelda Change) is Zelda and Sheik's down special move in Super Smash Bros. Melee and Super Smash Bros. Brawl. It allows Zelda and Sheik to turn into each other.
Overview
[
edit
]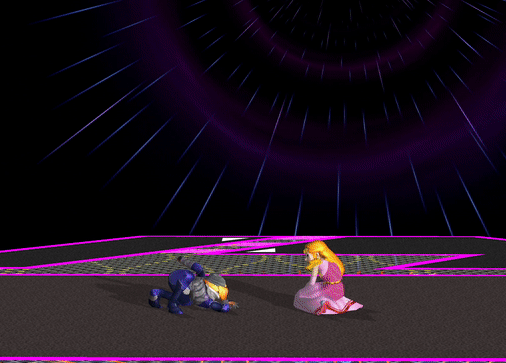 In Melee, both Zelda and Sheik are loaded in the game's memory at all times, allowing the transformation to occur instantly with no loading required. In Brawl, however, the new character must be loaded from the disc mid-transformation, which forces it to take much longer; because this is true, if two Zeldas/Sheiks are using the same palette swap through glitch or team battle, transforming into the other player's active character will be essentially instant as the data is already loaded. While the intangibility during the loading can be useful for dodging Final Smashes and boss attacks, it has an unpredictable duration and makes the move much easier to punish on completion. The delay can be shortened in terms of game time by pausing or through a slow motion effect such as the Timer; if replay data containing either of these happening is saved, the game will pause in-replay to finish the loading. Forcing the game to load the next character through an SD card via hacking will result in a transformation time comparable to Melee's, due to SD cards naturally being faster to access than the game disc.
Transform was replaced by Phantom Slash for Zelda and Bouncing Fish for Sheik starting with Smash 4.
Instructional quotes
[
edit
]
instruction booklet
Change into Sheik. Enemy attacks halt the transformation.
Change into Zelda. Damage percentage before and after the transformation remains the same.
instruction booklet
Transform into Zelda's alter ego, Sheik. Taking damage while transforming cancels the transformation.
Transform into Zelda. Damage percentage carries over to your new form.
The move is based on The Legend of Zelda: Ocarina of Time where Sheik reveals herself to have been Zelda in disguise all along. Using the power of the Triforce of Wisdom, she is able to physically change her appearance, allowing her to disguise herself by changing her clothing, hair, eye, and skin color. The sound that plays when Zelda/Sheik transform is the traditional "secret revealed" and "puzzle solved" jingle from The Legend of Zelda series. When Sheik reveals herself as Zelda, she crosses her hands, while the final Triforce piece appears on her hand, and then spins toward the screen, revealing her to be Zelda.
Gallery
[
edit
]