Chain
From SmashWiki, the Super Smash Bros. wiki
Jump to navigation
Jump to search
For Shulk's Final Smash, see Chain Attack. For the effect found on Simon and Richter's whip attacks, see Chain (effect)
Chain (鉄糸舞, Iron Thread Dance) is Sheik's side special move in Super Smash Bros. Melee and Super Smash Bros. Brawl.
Overview
[
edit
]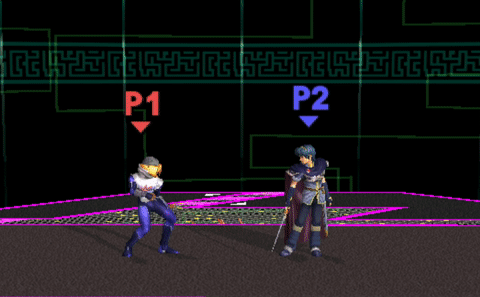 It involves Sheik pulling out a long metal chain and whipping it around. When Sheik pulls out the chain, the player has full analog control over it. The player can whip it in all directions - above and even behind Sheik's head. When a foe makes contact with the middle of the chain, they are slightly damaged. However, when the foe makes contact with the tip of the chain, they are given a small electric shock. It can be used to block solid projectiles like Link or Samus's bombs.
Due to the move's poor damage and lag, Chain is almost never used in competitive play. However, it is possible for the move to be used to stun opponents for extended periods of time, dealing significant damage to the opponent. Mew2King is known for performing this on opponents on the ledge, often resulting in the opponent losing a stock.[1]
In Brawl, the chain can act as a tether recovery, although inexperienced players randomly whipping the chain around can cause Sheik to immediately let go once tethered.
Glitches
[
edit
]
There is a glitch in Brawl called the Chain Jacket glitch which copies the properties of the previously used move's hitbox onto the Chain's hitboxes. If the glitch is performed without any move being performed prior in that match, the game will freeze.[2]
Instructional quotes
[
edit
]
| | | |
| --- | --- | --- |
| instruction booklet | | Hold down and use to brandish Sheik's Chain. It can be used for both offense and defense. |
| instruction booklet | | Move the Control Stick and hold down the B Button to attack with Sheik's chain. This move can also be moved to grab onto the stage edges. |
Gallery
[
edit
]
References
[
edit
]