Ganondorf (SSBM)/Forward aerial
From SmashWiki, the Super Smash Bros. wiki
Jump to navigation
Jump to search
Overview
[
edit
]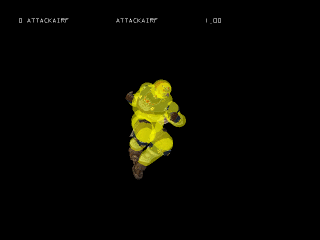 Ganondorf's forward aerial, often nicknamed the Skull Crusher or The Punch, involves him punching in a downwards motion in front of himself. Compared to the Knee Smash, The Punch is weaker and laggier, which is made up for by its significantly longer range.
The move has many positive traits which make it a widely used move in Ganondorf's metagame, namely its power, good range, and lack of a sourspot. The fact that it hits above Ganondorf means it can easily cover various tech options from opponents on platforms above him, as well as being a very good kill move, being able to kill spacies at below 80% if used near the edge of most competitive stages. Also, if the move is spaced properly, it's very hard to punish out of shield (due to its high shieldstun and shield pushback by virtue of its damage output) if used while falling.
However, every move has its drawbacks, and The Punch is outclassed by back aerial in many areas, being slower, laggier, having less knockback (starting at 106%) and, most importantly, not being able to autocancel in a short hop, which makes it only work as a falling aerial, giving oponents more time to react and potentially whiff punish the attack.
Overall, The Punch is considered a staple of Ganondorf's moveset for its variety of good traits, however, it should not be overused, as it might not always be the most rewarding option for every situation and Ganondorf can be punished hard if the attack fails to connect.
Hitboxes
[
edit
]
ID
Part
Damage

SD

Angle

BK

KS

FKV

Radius
Bone

Offset

Clang

Rebound

Effect

G

A

Sound
0
0
17%
0
60
80
0
3.1248
66
-0.7812
0.0
0.0
Burn
1
0
17%
0
60
80
0
3.906
66
1.953
0.0
0.0
Burn
2
0
17%
0
60
80
0
5.0778
67
4.6872
0.0
0.0
Burn
ID
Part
Damage

SD

Angle

BK

KS

FKV

Radius
Bone

Offset

Clang

Rebound

Effect

G

A

Sound
0
0
17%
0
40
80
0
2.7342
66
-0.7812
0.0
0.0
Burn
1
0
17%
0
40
80
0
3.5154
66
1.953
0.0
0.0
Burn
2
0
17%
0
40
80
0
4.2966
67
4.6872
0.0
0.0
Burn
Summary:
Base knockback (60 → 40)
Hitbox sizes (3.125u/3.91u/5.08u → 2.734u/3.52u/4.3u)
| | |
| --- | --- |
| Initial autocancel | 1-6 |
| Hitboxes | 14-19 |
| Ending autocancel | 34- |
| Interruptible | 35 |
| Animation length | 44 |
Landing lag
[
edit
]
| | |
| --- | --- |
| Animation length | 25 |
| L-cancelled animation length | 12 |