Ganondorf (SSBM)/Back aerial
From SmashWiki, the Super Smash Bros. wiki
Jump to navigation
Jump to search
This article or section may require competitive expertise.
The editor who added this tag elaborates: Add hitboxes and much more detail.
You can discuss this issue on the talk page or edit this page to improve it.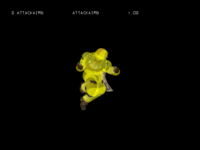 Overview
[
edit
]
Ganondorf punches behind him. It has long range and duration, high power (the second strongest back air in Melee, just shy of Zelda's), remarkable speed, and lenient autocancel timing, making it one of the best back airs in the game, if not the best. It is also arguably the best of Ganondorf's many great kill options.
Hitboxes
[
edit
]
ID
Part
Damage

SD

Angle

BK

KS

FKV

Radius
Bone

Offset

Clang

Rebound

Effect

G

A

Sound
Clean
0
0
16%
0
30
100
0
5.4684
23
4.6872
0.0
0.0
Punch
1
0
16%
0
10
100
0
4.6872
22
3.1248
0.0
0.0
Punch
2
0
16%
0
10
100
0
3.906
22
-0.7812
0.0
0.0
Punch
| | |
| --- | --- |
| Initial autocancel | 1-6 |
| Hitboxes | 10-15 |
| Ending autocancel | 19- |
| Interruptible | 29 |
| Animation length | 35 |
Landing lag
[
edit
]
| | |
| --- | --- |
| Animation length | 25 |
| L-cancelled animation length | 12 |