Kirby (SSBU)/Up smash
From SmashWiki, the Super Smash Bros. wiki
Jump to navigation
Jump to search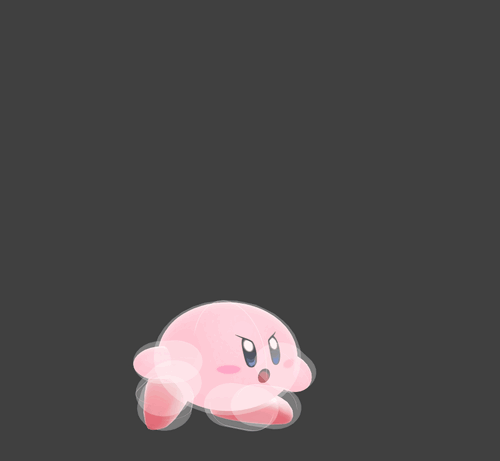 Overview
[
edit
]
A bicycle kick. For the entire duration of the hitboxes (frames 12-17), Kirby's foot is intangible. It has the fastest interruptibility of Kirby's smash attacks (27 frames of ending lag) and consists of a clean hit that hit lasts for its first three frames, a mid hit for two frames and a late hit on the last active frame. The mid hit has larger hitboxes than the rest of the attack, but the clean hit is fairly powerful, having good knockback overall. The attack has three hitboxes, including a farther sourspot that deals less damage. Good anti-air due to its vertical range and the foot intangibility.
Update History
[
edit
]
Its clean hit has a longer duration, with the late hit having a shorter duration instead (frame 12 (strong)/13-14 (mid)/15-17 (late) → 12-14/15-16/17).
Its clean sourspot deals more knockback (30 base/99 scaling → 36/104), with the knockback values matching the sweetspots.
Hitboxes
[
edit
]
ID
Part

Rehit rate

Damage

SD

Angle

Angle type

BK

KS

FKV

Set weight

Radius
Bone

Offset

H×

SDI×

T%

Clang

Rebound

Effect
Type

G

A

Sound
Direct

Hit bits

Hit part

Blockable
Reflectable
Absorbable
Flinchless

No GFX

Heedless

Clean hit
0
0
0

15.0%

0

Standard

36
104
0
5.2
kneer
0.0
0.0
0.0
1.0×
1.0×
0%
Kick
All
All
1
0
0

15.0%

0

Standard

36
104
0
5.2
footr
1.5
-2.6
0.0
1.0×
1.0×
0%
Kick
All
All
2
0
0

14.0%

0

Standard

36
104
0
5.2
footr
1.5
-6.2
0.0
1.0×
1.0×
0%
Kick
All
All
Mid hit
0
0
0

14.0%

0

Standard

20
98
0
6.3
kneer
0.0
0.0
0.0
1.0×
1.0×
0%
Kick
All
All
1
0
0

14.0%

0

Standard

20
98
0
6.3
footr
0.0
-2.5
0.0
1.0×
1.0×
0%
Kick
All
All
2
0
0

13.0%

0

Standard

20
98
0
6.3
footr
0.0
-5.2
0.0
1.0×
1.0×
0%
Kick
All
All
Late hit
0
0
0

13.0%

0

Standard

10
52
0
5.0
kneer
0.0
0.0
0.0
1.0×
1.0×
0%
Kick
All
All
1
0
0

13.0%

0

Standard

10
52
0
5.0
footr
0.0
-2.5
0.0
1.0×
1.0×
0%
Kick
All
All
2
0
0

12.0%

0

Standard

10
52
0
5.0
footr
0.0
-5.2
0.0
1.0×
1.0×
0%
Kick
All
All
| | |
| --- | --- |
| Charges between | 8-9 |
| Foot intangible | 12-17 |
| Clean hit | 12-14 |
| Mid hit | 15-16 |
| Late hit | 17 |
| Interruptible | 46 |
| Animation length | 48 |