Kirby (SSBU)/Neutral aerial
From SmashWiki, the Super Smash Bros. wiki
Jump to navigation
Jump to search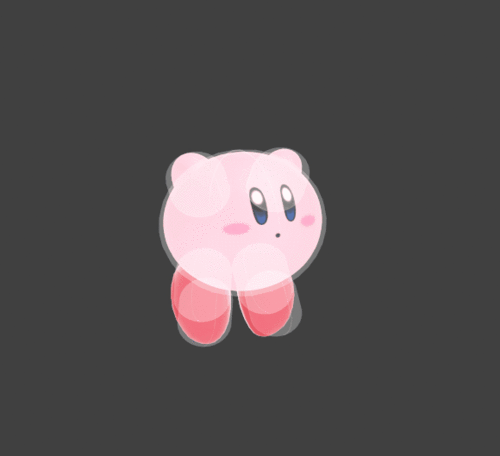 Overview
[
edit
]
Kirby spins around, performing somersaulting cartweels. It comes out on frame 8, tied with up aerial for the second fastest startup of his aerials. Thanks to its very minimal landing lag (6 frames), its safe on shield if used near the ground, and it's great for shield pressure. It has a large hitbox that lasts for a long time becomes smaller and weaker with time, but even in the latest active frames, it's large enough to cover Kirby's entire body, and it's somewhat disjointed, giving him good protection when he uses it. As of patch 6.0.0, the clean hit on its first two active frames has very high knockback scaling and is strong enough to KO at around 110% at the ledge of Final Destination. Not only this makes it as strong as his back aerial, but this also makes it one of the strongest neutral aerials in the game, with its power being comparable to Samus's neutral aerial. All these traits make it a powerful out of shield option. It has noticeable flaws though: it has the highest ending lag of Kirby's aerials, but this is compensated by its long active duration, and it autocancels later than the other aerial attacks, only doing so in a full hop. While it's not slow, it acts similarly to a sex kick, and its frame 8 startup causes it to have above average startup compared to aerials with similar properties.
Update History
[
edit
]
It has less ending lag (FAF 63 → 55) and auto-cancels earlier (frame 56 → 51).
It has less startup (frame 10 → 8) with its total duration reduced as well (FAF 55 → 53), and the clean hit has more knockback scaling (100 → 117), KOing under 150% from the center of Final Destination.
Hitboxes
[
edit
]
ID
Part

Rehit rate

Damage

SD

Angle

Angle type

BK

KS

FKV

Set weight

Radius
Bone

Offset

H×

SDI×

T%

Clang

Rebound

Effect
Type

G

A

Sound
Direct

Hit bits

Hit part

Blockable
Reflectable
Absorbable
Flinchless

No GFX

Heedless

Clean hit
0
0
0

10.0%

0

Standard

35
117
0
9.0
hip
2.5
0.0
0.0
1.0×
1.0×
0%
Punch
All
All
Mid hit
0
0
0

8.0%

0

Standard

30
90
0
8.0
hip
2.5
0.0
0.0
1.0×
1.0×
0%
Punch
All
All
Late hit
0
0
0

6.0%

0

Standard

30
90
0
7.0
hip
2.5
0.0
0.0
1.0×
1.0×
0%
Punch
All
All
Latest hit
0
0
0

4.0%

0

Standard

30
90
0
6.0
hip
2.5
0.0
0.0
1.0×
1.0×
0%
Punch
All
All
| | |
| --- | --- |
| Initial autocancel | 1-3 |
| Clean hit | 8-9 |
| Mid hit | 10-13 |
| Late hit | 14-18 |
| Latest hit | 19-32 |
| Ending autocancel | 49- |
| Interruptible | 53 |
| Animation length | 70 |
Landing lag
[
edit
]
| | |
| --- | --- |
| Interruptible | 7 |
| Animation length | 21 |