Kirby (SSBU)/Up aerial
From SmashWiki, the Super Smash Bros. wiki
Jump to navigation
Jump to search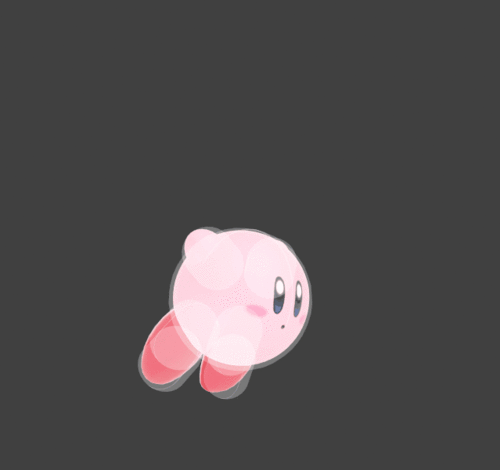 Overview
[
edit
]
Kirby backflips and performs a bycicle kick, similarly to his up smash. Due to coming out of frame 8, it's tied with neutral aerial for the second fastest startup of his aerials, and also low ending lag, autocancels in a short hop fast fall to due a lenient autocancel window and has a good initial autocancel window, which makes it useful for feinting and mixups when combined with its minimal landing lag. It's good for combos and juggles due to its vertical angle, yet it deals 10% and decent knockback, giving it KO potential at high percents, especially at a certain height.
Update History
[
edit
]
It has less ending lag (FAF 40 → 38).
It has less startup (frame 10 → 8) with its total duration reduced as well (FAF 38 → 36), and deals more damage (9% → 10%) with more knockback scaling (108 → 115), KOing under 160% from ground level.
Hitboxes
[
edit
]
ID
Part

Rehit rate

Damage

SD

Angle

Angle type

BK

KS

FKV

Set weight

Radius
Bone

Offset

H×

SDI×

T%

Clang

Rebound

Effect
Type

G

A

Sound
Direct

Hit bits

Hit part

Blockable
Reflectable
Absorbable
Flinchless

No GFX

Heedless

0
0
0

10.0%

0

Standard

20
115
0
4.0
footr
0.0
-5.6
0.0
1.0×
1.0×
0%
Kick
All
All
1
0
0

10.0%

0

Standard

20
115
0
4.5
footr
0.0
0.0
0.0
1.0×
1.0×
0%
Kick
All
All
| | |
| --- | --- |
| Initial autocancel | 1-7 |
| Hitboxes | 8-13 |
| Ending autocancel | 20- |
| Interruptible | 36 |
| Animation length | 45 |
Landing lag
[
edit
]
| | |
| --- | --- |
| Interruptible | 8 |
| Animation length | 26 |