Terry (SSBU)/Command input/Command input 1
From SmashWiki, the Super Smash Bros. wiki
Jump to navigation
Jump to search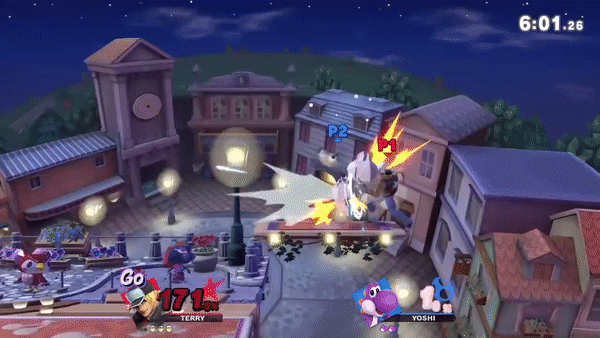 Overview
[
edit
]
Terry punches the ground and causes an explosion. Being a Super Special Move, Power Geyser can only be executed if Terry has sustained 100% damage, or if he's reached 30% of his HP in Stamina Mode, as well as requiring him to be on the ground. It can only be executed through a command input, specifically ↓ ↙ ← ↙ → + Attack / Special, but something as simple as ↓ ↙ ← → + Attack / Special is possible, making it easier to use than it seems. Like most command specials, the move is fairly easy to drop cancel, in part due to Terry's unnaturally long animation, making it easy to use on platforms. It can also hit the ledge and 2-frame, making it an unwieldy but amazing edgeguard option.
Power Geyser has a fairly long startup - 20 frames - but for its power, it remains exceptionally powerful. Furthermore, it has 5% damage-based armor on frames 1-14, allowing Terry to force his way through weak attacks from characters like Sheik. Considering that it comes out frame 1, this gives the move surprisingly flexible option value. Despite this slow nature, Power Geyser is fairly easy to confirm into through up tilt, which has its own set of confirms as well. Considering the high damage and ridiculous launch angle, Power Geyser can be used as a combo ender even if there isn't a KO.
Power Geyser is excellent for shield breaks thanks to the sheer amount of damage it deals. It can deal as much as 27.727 damage to a shield - just over half its HP - which can be used alongside Terry's various normals — particularly forward tilt — to force an option from the opponent. This is, oftentimes, enough for the shield break to occur, allowing for a massive punish that should ideally be a stock.
Thanks to its gigantic hitbox and extremely high KO potential, Power Geyser gives Terry one of the most effective punishes to jump-ins in the game, making it difficult to engage Terry with aerial attacks from afar. For characters that deal low damage - compounded by the 0.85× short hop damage multiplier - aerial approaches become much more difficult once Terry has reached 100%. Some characters, such as Jigglypuff, will try to gimp Terry early solely for a chance at avoiding a game with Power Geyser in play.
The main weakness of Power Geyser is how punishable it is. The move is extremely laggy, and -28 on shield from the first hit frame. As a result, using it raw can and will lead to punishment if it doesn't hit. As a result, using the move in that manner is not recommended, and it should strictly be used as a hard punish or combo ender. With Terry at 100%, whiffing or hitting shield with Power Geyser can absolutely be a death sentence against most characters in the game, making it high-risk, high-reward.
Hitboxes
[
edit
]
ID
Part

Rehit rate

Damage

SD

Angle

Angle type

BK

KS

FKV

Set weight

Radius
Bone

Offset

H×

SDI×

T%

Clang

Rebound

Effect
Type

G

A

Sound
Direct

Hit bits

Hit part

Blockable
Reflectable
Absorbable
Flinchless

No GFX

Heedless

Early hit
0
0
0
26.0%
-4.0

Standard

100
41
0
1.0
top
0.0
2.0
-2.0
1.0×
1.0×
0%
Power Geyser
All
All
1
0
0
26.0%
-4.0

Standard

100
41
0
3.0
top
0.0
3.0
-8.0 to 4.0
1.0×
1.0×
0%
Power Geyser
All
All
Clean hit
0
0
0
26.0%
-4.0

Standard

100
41
0
11.0
top
0.0
10.0
-1.0
1.0×
1.0×
0%
Power Geyser
All
All
1
0
0
23.0%
-4.0

Standard

100
42
0
11.0
top
0.0
25.0
3.0
1.0×
1.0×
0%
Power Geyser
All
All
2
0
0
20.0%
-4.0

Standard

100
44
0
8.0
top
0.0
40.0
5.0
1.0×
1.0×
0%
Power Geyser
All
All
Late hit
0
0
0
19.0%
-4.0

Standard

120
41
0
11.0
top
0.0
10.0
-1.0
1.0×
1.0×
0%
Power Geyser
All
All
1
0
0
17.0%
-4.0

Standard

110
42
0
11.0
top
0.0
25.0
3.0
1.0×
1.0×
0%
Power Geyser
All
All
2
0
0
15.0%
-4.0

Standard

100
44
0
8.0
top
0.0
40.0
5.0
1.0×
1.0×
0%
Power Geyser
All
All
| | |
| --- | --- |
| Early Hitboxes | 20-23 |
| Late Hitboxes | 24-29 |
| Interruptible | ? |
| Animation length | ? |
| | | |
| --- | --- | --- |
| | | Terry's moveset |