Cancellation of The Big House Online
From SmashWiki, the Super Smash Bros. wiki
Jump to navigation
Jump to search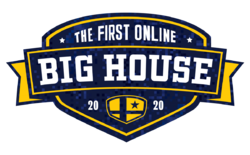 The Big House Online was a cancelled Super Smash Bros. Melee and Super Smash Bros. Ultimate online tournament planned to be held from December 4th-6th, 2020. The event was originally intended to be held offline as The Big House 10, but it was switched to an online event due to the COVID-19 pandemic.
On November 19th, 2020, the organizers announced that Nintendo of America had sent a cease and desist letter to them due to the use of Project Slippi for the Melee event.[1] As a result, the organizers were forced to cancel both events. This resulted in outrage within the community, with many players criticizing Nintendo for not allowing Slippi despite it allowing for competitive play amidst a global pandemic.
Reaction from the competitive community
[
edit
]
Within an hour of the event's cancellation being announced, the tag #FreeMelee started trending on Twitter as many members of the community expressed their disappointment towards Nintendo. As a result of the announcement, Ludwig announced the Ludwig Ahgren Championship Series 3 with a $10,000 prize going to a charity of choice by the event's winner. By November 24th, the community had raised the prize to $42,000 through donations.[2] Supporters of the movement began posting comments with the hashtag #FreeMelee onto Nintendo's various social medias. The online movement and outrage was quickly picked up and supported by various notable organizations, news sites, and individuals including Cr1TiKaL,[3] Kotaku,[4] CLG,[5] Cloud9,[6] and Tempo Storm.[7] Later that day, a response claiming to be from Nintendo was later released stating that ROMs were required to use Slippi which are obtained illegally through pirating. In addition, they initially reached out to the team asking them to stop, but the team refused.[8]
Following the events that unfolded, Armada had gone on stream to further explain the history of Nintendo shutting down the competitive scene.
#SaveSmash movement
[
edit
]
On November 23rd, an anonymous source claiming to be a "informed Smash insider" published a TwitLonger explaining Nintendo's history of harming the competitive Super Smash Bros. community. The TwitLonger explained how Nintendo had shut down many attempts over the years at a formal competitive league from various entities such as Eleague, HTC, ESL, MLG, Red Bull, and Twitch. The TwitLonger also explained how Nintendo had forced Project M to be dropped from events promising opportunities such as a dedicated circuit in return. Many tournament organizers and players were eager to work with Nintendo, but were ultimately met with silence. This ultimately hurt the overall competitive community as the dwindling support of Project M resulted in a loss of revenue from players and viewership.
As a result of this newfound information, the hashtag #SaveSmash began trending on Twitter.[9] The information provided in the TwitLonger was verified by many prominent members of the community[10] and as such many took to publishing their own records of events involving Nintendo.
Later that same day, former Smashboards writer, Linnea Caps, had revealed that she had an unreleased interview with Alex Strife explaining the removal of Project M from Apex 2015. According to the interview, Twitch had pressured Alex Strife into removing Project M from the event's lineup and in return offered to make a public statement that would help Alex Strife avoid harassment following many allegations of sexual misconduct. Twitch had offered this deal in an attempt to secure Nintendo's approval as they were attempting to form a circuit. As a result of Twitch's pressure, Project M was removed from the lineup and Nintendo officially sponsored the event. Many notable Smash streamers had also attempted to get Twitch to pay them to stop streaming Project M. This never came into fruition, but the mod was shortly banned from being streamed on Twitch. Hitbox.tv took notice and immediately dove in to pickup Project M and make it the home for streaming it. They hired someone to specifically coordinate with the Project M community and also tasked Linnea with bringing the community together, but this would come to an abrupt end as Hitbox attempted to appease Nintendo for official support. Twitch, Hitbox, and many other companies including Red Bull, had all attempted to gain Nintendo's support through dropping Project M, but were ultimately met with false promises. Linnea explained how all this information was withheld from being posted in Smashboards due to fears that it would cause chaos within the community and would give Alex Strife a platform. The following day, a followup TwitLonger was released further explaining the situation that unfolded with Twitch.
On November 24th, Chia would publish a TwitLonger explaining how Twitch had forced CLASH Tournaments and many other Project M streamers to stop streaming the game. They were allowed one last major event stream, but would be forced to never stream the game again afterwards. CLASH Tournament's final Project M stream was Shots Fired. Twitch had also forced her to not mention anything about the situation or she'd risk losing CLASH Tournament's partnership with Twitch. In an attempt to make it easier on the streamers, Twitch asked them to provide financial analytics of how much they earned with streaming Project M and promised that they'd pay similar amounts of funds for a short time. This also never came into fruition and the streamers were left unpaid.
On the same day, KishPrime would also publish a thread on Twitter explaining how he had attempted to legitimately profit off of running tournaments following the success of his MELEE-FC series sometime in 2009. He had reached out to Nintendo for official support and approval, but was promptly denied and told that he would never be able to collaborate with Nintendo and that if he was caught running more events, legal action would be taken. This ultimately resulted in Kish discontinuing the Melee-FC tournament series despite continued success. Despite this, a few years later, Samox had reached out to Kish for questions about Melee's history to be used in his then-coming documentary, The Smash Brothers. As collaborations between the two continued, it was decided that Kish would bring back the Melee-FC series as a legacy event celebrating the series. Kish explains how by that point in time, he believed Nintendo had a mostly hands off approach to competitive events and as such was convinced to bring back the series as well as host the first Project M national tournament.
Later that same day, Armada would publish the second part of his video series explaining the history of Nintendo acting against the competitive scene. Additionally, Juggleguy, head organizer of The Big House, would be featured in an interview on sportskeeda. In the interview he explains how he had a bad feeling about the event being cancelled after Nintendo reps had been acting strangely when discussing the event. He also discussed how the event's cancellation had financially impacted him and his team and what it means for the future of the competitive scene.
On November 26th, a highly requested update to add broadcasting to Project Slippi was released early as a result of the movement.[11] As a result of Slippi's continued contributions to the community, many community members donated en masse to the project as Fizzi had reported that server costs had risen to $1,000 a month.[12] Additionally, in an attempt to help recoup the costs from The Big House Online being cancelled, the community also donated en masse to the team behind the event through direct donations and merchandise sales.[13][14]
Continued efforts
[
edit
]
On December 6th, 2020, Melee It On Me announced that a five day celebration titled 5 Days of Melee would be held beginning on December 14th. The event featured events for both Melee and Project M. The event was praised by Project+ community members for helping bring back the game into the spotlight. The event raised 60,000 USD for Direct Relief, a charity providing support for people during the COVID-19 pandemic, and the charity's vice president would send the organizers a letter thanking them for their contributions[15].
The movement remained strong through the first week of December, with many supporters continuing to comment on Nintendo's social media pages. The movement declined in popularity after the reveal of Sephiroth as a playable character in Ultimate on December 9th, which earned the ire of its supporters for letting fans supposedly absolve Nintendo of their mistakes. Since then, the movement has been mostly dormant, though it resurfaced after the cancellation of Smash World Tour 2022, which involved Nintendo refusing to issue a license for them to operate.
Support from outside communities
[
edit
]
On November 26th, a TwitLonger was published by HanukkahJamboree, an ARMS tournament organizer, expressing the ARMS community's solidarity with Melee and Project M. The TwitLonger explained how Nintendo, similarly to Smash, has hardly supported the competitive ARMS community in any meaningful way. The TwitLonger also goes in detail explaining how Nintendo's official events have been lackluster with not enforcing lag restrictions, offering negligible prizes, offering non-functional consoles, and rules that did not align with the will of the community. This was well received by the competitive Smash community with many notable community members expressing their support.
On December 5th, Nintendo announced that they had cancelled their livestream of the finals of Splatoon 2 North American Open December 2020. While it was only stated to have been done due to "unexpected executional challenges," Slimy, a Splatoon 2 tournament organizer, had confirmed that it was caused by 30% of teams being registered having names in support of Melee and the Smash community[16] due to Nintendo's actions against The Big House Online. Following this, the Discord server for the event was spammed by many members of the community in wake of the stream's cancellation. This led to many members of the competitive Smash community to begin supporting the Splatoon 2 scene in thanks for their solidarity. Many people with large followings outside of the competitive scenes also took notice and began posting tweets criticizing the actions of Nintendo.
As a result of the cancellation of the stream, EndGameTV announced "The Squid House", a grassroots invitational tournament being funded by the community without Nintendo's involvement. Most of the top teams that had entered the North American Open dropped out to play in this new event. Initially the event had started at a prize pool of $1,000, but through significant support and contributions from the competitive Smash and Splatoon communities, this was raised to $28,000, with $3,000 going to charity.[17] This resulted in The Squid House having the largest prize pool in competitive Splatoon history, more so than Nintendo has ever offered, and the most viewed stream for a Western grassroots Splatoon event.[18]
References
[
edit
]