Bowser Jr. (SSBU)/Side special
From SmashWiki, the Super Smash Bros. wiki
Jump to navigation
Jump to search
Bowser Jr. Side Special Hitbox Visualizations.
Grounded
Aerial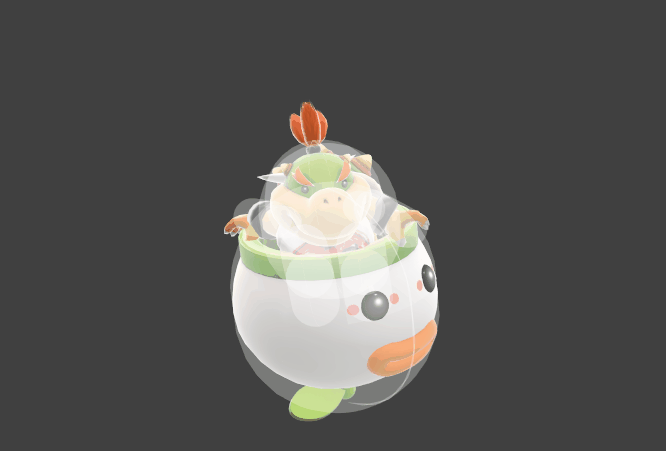 Overview
[
edit
]
The Junior Clown Car transforms into a go-kart that speeds forward. Tilting the control stick/circle pad in the opposite direction or pressing the attack/special button will cause the Junior Clown Car to perform a doughnut, which deals significantly more damage and higher knockback to opponents on contact compared to simply charging into them. Spinning out in the air can produce horizontal movement, after which it can be used again. All versions of the move can be jump canceled, even right after hitting an opponent, which can lead into combos and mix-ups. Does 5.2%-8.8% upon collision, and 10%-16.3% on the doughnut.
Update History
[
edit
]
When using Clown Kart Dash to collide into a wall, Bowser Jr. descends instead of ascends. This removes its ability to stall an opponent.
Clown Kart Dash travels faster.

Due to its damage output being determined by Bowser Jr.'s speed, its collision also deals more damage (4%-7.3% → 5.2%-8.8%).

Clown Kart Dash's hitbox remains active after bouncing off the ground.
Fixed a glitch where Bowser Jr. could cancel aerial Clown Kart Dash's spinout into a jump within a few frames of landing on the ground.
Hitboxes
[
edit
]
ID
Part

Rehit rate

Damage

SD

Angle

Angle type

BK

KS

FKV

Set weight

Radius
Bone

Offset

H×

SDI×

T%

Clang

Rebound

Effect
Type

G

A

Sound
Direct

Hit bits

Hit part

Blockable
Reflectable
Absorbable
Flinchless

No GFX

Heedless

Grounded
0
0
30
4.0%
0

Speed-based

60
95
0
3.6
clownhip
0.0
1.5
0.0
1.2×
1.0×
0%
Kick
All
All
1
0
30
4.0%
0

Speed-based

60
95
0
1.5
clownhip
0.0
3.0
0.0
1.2×
1.0×
0%
Kick
All
All
Aerial
0
0
30
2.0%
0

Speed-based

65
120
0
3.6
clownhip
0.0
1.5
0.0
1.2×
1.0×
0%
Kick
All
All
1
0
30
2.0%
0

Speed-based

65
120
0
1.5
clownhip
0.0
3.0
0.0
1.2×
1.0×
0%
Kick
All
All
Spinout (Grounded)
0
0
0
10.0%
0

Forward

65
75
0
5.2
clownhip
0.0
6.0
6.0 to 0.5
1.0×
1.0×
0%
Kick
All
All
Spinout (Aerial)
0
0
0
8.0%
0

Forward

60
80
0
5.2
clownhip
0.0
6.0
6.0 to 0.5
1.0×
1.0×
0%
Kick
All
All
Spinout
[
edit
]
| | |
| --- | --- |
| Hitbox | 3-14 |
| Interruptible | 59 |
| Animation length | 58 |
| | | | |
| --- | --- | --- | --- |
| | | | Bowser Jr.'s moveset |