Bowser Jr. (SSBU)/Down tilt
From SmashWiki, the Super Smash Bros. wiki
Jump to navigation
Jump to search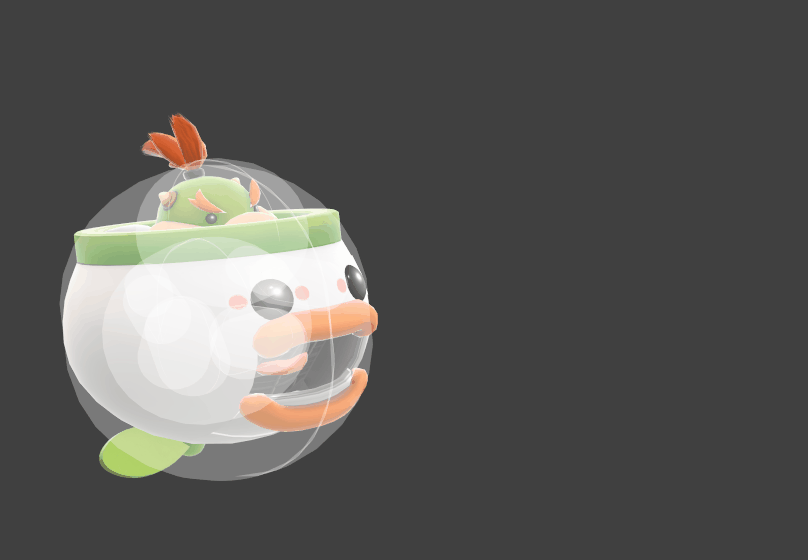 Overview
[
edit
]
The Junior Clown Car uses its tongue to lick forward three times. It has a fair amount of utility, as it is efficient at warding off rushdowns, can act as a set-up for a dash attack, or interfere with an opponent attempting to grab an edge due to its undulating hitbox. It can KO ledge-hanging opponents at around 120%.
Update History
[
edit
]
The first and second hit of down tilt have less knockback growth (30 → 11) less base knockback (20 → 17) and the final hit of down tilt launches at a lower angle (45 → 40).
Only the first hit of down tilt will hit opponents hanging from the ledge, whereas before the first hit would lift opponents into the rest of the attack. Additionally, airborne opponents with frame 1 intangible options (such as Rest) can now escape the final hit, as the lower knockback reduces hitstun.
Hitboxes
[
edit
]
ID
Part

Rehit rate

Damage

SD

Angle

Angle type

BK

KS

FKV

Set weight

Radius
Bone

Offset

H×

SDI×

T%

Clang

Rebound

Effect
Type

G

A

Sound
Direct

Hit bits

Hit part

Blockable
Reflectable
Absorbable
Flinchless

No GFX

Heedless

Hitstun
Shieldstun
Hit 1
0
0
0
2.0%
0

Standard

17
11
0
3.0
clowntongue2
9.0
0.0
0.0
0.5×
1.0×
0%
Punch
All
All
+4 frames
1.2×
1
0
0
2.0%
0

Standard

17
11
0
2.8
clowntongue2
3.0
1.0
0.0
0.5×
1.0×
0%
Punch
All
All
+4 frames
1.2×
Hit 2
0
0
0
2.0%
0

Standard

17
11
0
3.0
clowntongue2
9.0
0.0
0.0
0.5×
1.0×
0%
Punch
All
All
+4 frames
1.2×
1
0
0
2.0%
0

Standard

17
11
0
2.8
clowntongue2
3.0
1.0
0.0
0.5×
1.0×
0%
Punch
All
All
+4 frames
1.2×
Hit 3
0
0
0
6.0%
0

Standard

20
150
0
4.0
clowntongue2
9.5
0.0
0.0
1.2×
1.0×
0%
Punch
All
All
—
—
1
0
0
6.0%
0

Standard

20
150
0
2.8
clowntongue2
3.0
1.0
0.0
1.2×
1.0×
0%
Punch
All
All
—
—
| | |
| --- | --- |
| Hits 1-2 | 4-6, 12-14 |
| Hit 3 | 23-25 |
| Interruptible | 41 |
| Animation length | 44 |
| | | | |
| --- | --- | --- | --- |
| | | | Bowser Jr.'s moveset |