Captain Falcon (SSB)/Up smash
From SmashWiki, the Super Smash Bros. wiki
Jump to navigation
Jump to search
Overview
[
edit
]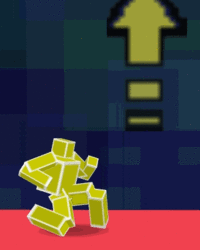 Captain Falcon does an elbow thrust upwards, dealing 17% damage. Despite having low knockback (being the weakest up smash in Smash 64, with high base knockback but extremely low knockback scaling; unable to KO until around 195%), it is one of Captain Falcon's best moves, being his primary combo starter outside of his forward throw and aerials, and one of his best options on the ground. It comes out on frame 4; making it the fastest up smash not only in the game but also the entire series. This subsequently makes it an excellent out of shield option. It knocks the opponent slightly towards Captain Falcon, and has rather high hitstun, increasing its combo ability. The move can chain into itself up to three times (depending on the falling speed of the opponent), and can lead into a grab, up aerial (either to hit the opponent up for a combo, or the semi-spike when near the edge at moderate percentages), or another aerial (though outside of up aerial, a back aerial is the most useful for numerous reasons).
Hitboxes
[
edit
]
ID
Part
Damage

SD

Angle

BK

KS

FKV

Radius
Bone

Offset

Clang
Effect

G

A

Sound
1
0
17%
0
90
40
0
190
14
140
0
0
Punch
2
0
17%
0
90
40
0
140
14
0
0
0
Punch
| | |
| --- | --- |
| Hitbox | 4-11 |
| Animation length | 45 |
Gallery
[
edit
]
Two up smashes leading into a uair combo, ending with a Falcon Dive.