Bowser (SSBM)/Up special
From SmashWiki, the Super Smash Bros. wiki
Jump to navigation
Jump to search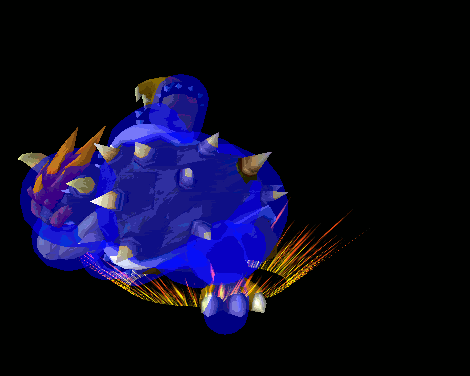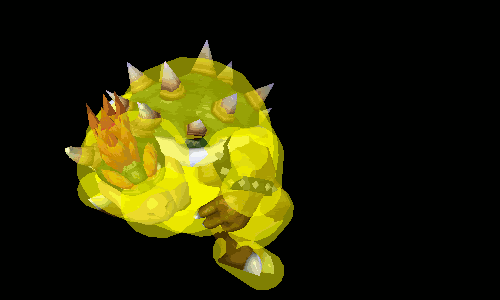 Overview
[
edit
]
Bowser retreats into his shell and starts spinning. A recovery move with very little startup, the attack has great knockback when used on the ground, and in the air, it is good for racking up damage. The attack usually hits once on the ground; however, if the move is started when too close to Bowser, it can hit twice dealing 17%, but usually denying KO attempts. In the air, it hits multiple times and can rack up a maximum of 32%. It is a great horizontal recovery, but does not cover much vertical distance. It can be used to grab the ledge quickly when grounded facing either direction.
The grounded version is one of Bowser's fastest and best moves, intangible from frames 1-4 and hitting on frame 5 (multiple hits until frame 46). It also functions as a KO option, particularly against floatier characters, KOing Jigglypuff consistently at 80%, except on Dream Land, where it KOs around 105%. However, its primary use is to threaten overly aggressive opponents and allow Bowser the breathing room to set up his other slower options.
It is also sometimes used as a combo starter due to its vertical angle and likelihood to trade with another move, due to the first active frame being the first vulnerable frame and the move covering most of Bowser's body. This is known colloquially as a Shell Shock and is caused by trading with a low-knockback move such as Falco's Blaster or Sheik's Needle Storm — or any other move that does not put Bowser in significant hitstun — and then following up out of the low hitstun with another move.
Hitboxes
[
edit
]
ID
Part
Damage

SD

Angle

BK

KS

FKV

Radius
Bone

Offset

Clang

Rebound

Effect

G

A

Sound
Clean hit
0
0
13%
3
90
80
0
7.812
0
0.0
7.4214
-3.906
Burn
1
0
13%
3
90
80
0
7.812
0
0.0
7.4214
7.812
Burn
Mid hits
0
0
5%
0
80
50
0
4.6872
0
0.0
7.4214
-3.906
Slash
1
0
5%
0
80
50
0
4.6872
0
0.0
7.4214
7.812
Slash
Late hits
0
0
3%
0
50
50
0
4.6872
0
0.0
7.4214
-3.906
Slash
1
0
3%
0
50
50
0
4.6872
0
0.0
7.4214
7.812
Slash
ID
Part
Damage

SD

Angle

BK

KS

FKV

Radius
Bone

Offset

Clang

Rebound

Effect

G

A

Sound
Hit 1
0
0
10%
3
80
60
0
8.9838
0
0.0
8.2026
0.0
Paper
Hits 2-6
0
0
3%
0
50
20
0
7.812
0
0.0
8.2026
0.0
Slash
Hits 7-11
0
0
2%
0
50
20
0
7.812
0
0.0
8.2026
0.0
Slash
Grounded
[
edit
]
| | |
| --- | --- |
| Intangible | 1-4 |
| Clean Hit | 5-6 |
| Head and Limbs Intangible | 6-49 |
| Mid Hits | 7-10 11-14 14-18 19-22 23-26 |
| Late Hits | 27-30 31-34 35-38 38-42 42-46 |
| Animation length | 79 |
| | | | | | | | | | | | | | | | | | | | | | | | | | | | | | | | | | | | | | | | | | | | | | | | | | | | | | | | | | | | | | | | | | | | | | | | | | | | | | | | |
| --- | --- | --- | --- | --- | --- | --- | --- | --- | --- | --- | --- | --- | --- | --- | --- | --- | --- | --- | --- | --- | --- | --- | --- | --- | --- | --- | --- | --- | --- | --- | --- | --- | --- | --- | --- | --- | --- | --- | --- | --- | --- | --- | --- | --- | --- | --- | --- | --- | --- | --- | --- | --- | --- | --- | --- | --- | --- | --- | --- | --- | --- | --- | --- | --- | --- | --- | --- | --- | --- | --- | --- | --- | --- | --- | --- | --- | --- | --- | --- |
| Hitboxes  | | | | | | | | | | | | | | | | | | | | | | | | | | | | | | | | | | | | | | | | | | | | | | | | | | | | | | | | | | | | | | | | | | | | | | | | | | | | | | | |
| Entire body  | | | | | | | | | | | | | | | | | | | | | | | | | | | | | | | | | | | | | | | | | | | | | | | | | | | | | | | | | | | | | | | | | | | | | | | | | | | | | | | |
| Head and limbs  | | | | | | | | | | | | | | | | | | | | | | | | | | | | | | | | | | | | | | | | | | | | | | | | | | | | | | | | | | | | | | | | | | | | | | | | | | | | | | | |
| | |
| --- | --- |
| Clean Hit | 5-6 |
| Head and Limbs Intangible | 7-49 |
| Hits 2-6 | 7-10 11-14 14-18 19-22 23-26 |
| Hits 7-11 | 27-30 31-34 35-38 38-42 42-46 |
| Animation length | 49 |
Landing lag
[
edit
]