Bowser (SSBM)/Up aerial
From SmashWiki, the Super Smash Bros. wiki
Jump to navigation
Jump to search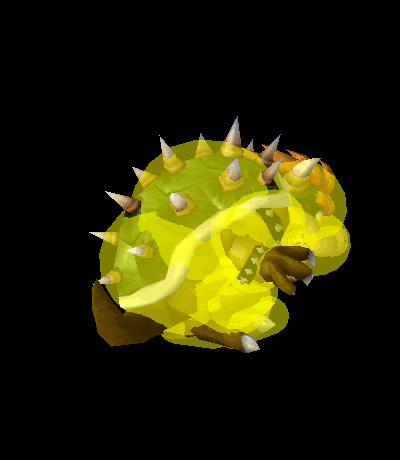 Overview
[
edit
]
Bowser performs an upward-swinging headbutt. While extremely slow, up aerial is equally strong, KOing fighters very early. Due to the sheer damage of the attack, it has a lot of hitstun. Thanks to this and the average base knockback, it can also be used during combos to rack up damage on fast fallers such as Fox at lower percentages. This often leads to three, possibly four hits when using platforms to extend. This is set up using Koopa Klaw's forward throw, or up tilt. Getting consistent L-cancels is crucial to the move's success, as the landing lag is extremely high otherwise, leading to a complete loss in combo utility and often a punish. The 3 active frames makes it a bit easier to land, though not by much.
However, outside of the utility outlined, up aerial is severely encumbered by the lag. This makes the move very situational to land if not set up for properly, making Bowser's juggling game weak. This is compounded by his very slow jumpsquat. The move is also among the easiest to punish on whiff in the game due to its high endlag and landing lag, relying on an autocancel or good L-cancel to escape. If it misses, it could well be a loss of advantage state on its own, making it very high risk with only decent reward. Due to these flaws, Bowser's up aerial is considered to be among the worst in the game.
Koopa Klaw forward throw ~ Up aerial
[
edit
]
The best way to set up for up aerial is to use it with Koopa Klaw. While it can work at any reasonable percentage on those it works on, it only works on some characters.

marked with an asterisk(*) means that Bowser can use a double jump up aerial to hit the opponent if they try to jump out of it. Some players will try to get hit by the opponent's panic option so to not experience the endlag. The combo is very consistent against characters it does hit.
| Character | Does it work? |
| --- | --- |
| | |
| | |
| | |
| | * |
| | |
| | |
| | |
| | * |
| | |
| | * |
| | |
| | |
| | * |
| | |
| | * |
| | * |
| | * |
| | * |
| | |
| | |
| | |
| | |
| | |
| | |
| | |
| | |
Hitboxes
[
edit
]
ID
Part
Damage

SD

Angle

BK

KS

FKV

Radius
Bone

Offset

Clang

Rebound

Effect

G

A

Sound
0
0
17%
0
50
100
0
8.5932
48
0.0
2.3436
0.0
Punch
| | |
| --- | --- |
| Initial autocancel | 1-9 |
| Hitbox | 23-25 |
| Ending autocancel | 40- |
| Interruptible | 45 |
| Animation length | 47 |
Landing lag
[
edit
]
| | |
| --- | --- |
| Animation length | 30 |
| L-cancelled animation length | 15 |