Snake (SSBU)/Up aerial
From SmashWiki, the Super Smash Bros. wiki
Jump to navigation
Jump to search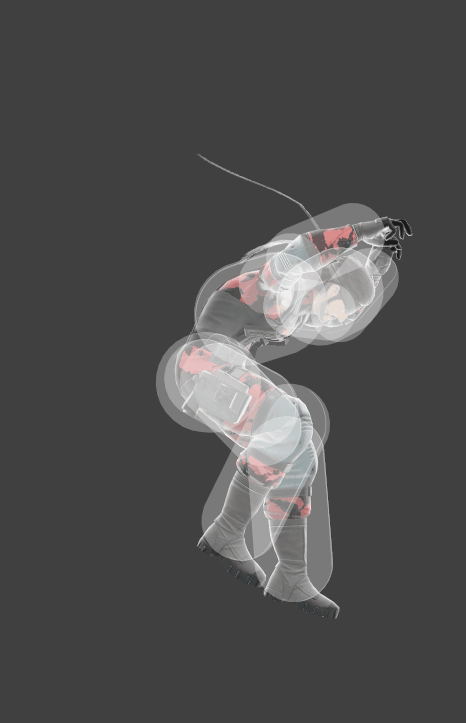 Overview
[
edit
]
Snake performs an upwards dropkick. It deals strong vertical knockback and is a reliable KO move at high percentages, especially if converted into from Snake's explosives, while it also possesses fast startup for its power, coming out on frame 10. Additionally, it has great disjointed reach, as its hitboxes extend much higher than Snake's feet, and the move has a long duration, similarily to his back aerial. Unlike several of Snake's other aerials, it auto-cancels in a short hop, making it safer to use as a rising aerial than Snake's other aerial attacks, and it even shifts his hurtbox, enabling him to avoid certain attacks that would have otherwise hit him.
The move also has decent combo potential when used as a landing aerial. It can combo into up tilt at low percentages with its clean hit, can combo into up tilt with its late hit at mid percentages, and can combo into a reverse aerial rush sweetspotted back aerial at mid to high percentages if done in a short hop fast fall, the latter of which can act as a possible KO confirm near the side blast zones (although this is rather niche).
It does have a few shortcomings. Like many of Snake's other moves, it has high ending lag, which can make it unsafe if whiffed or when not not used as a falling aerial. Along with this, despite its decent utility for combos when used as a landing aerial, the move can be difficult to land on grounded opponents due to the hitboxes being placed highly above Snake's legs. This can make it somewhat inconsistent for confirms, particularly on smaller characters.
Overall, Snake's up aerial is an attack with great utility and relatively few downsides compared to Snake's other aerials.
Hitboxes
[
edit
]
ID
Part

Rehit rate

Damage

SD

Angle

Angle type

BK

KS

FKV

Set weight

Radius
Bone

Offset

H×

SDI×

T%

Clang

Rebound

Effect
Type

G

A

Sound
Direct

Hit bits

Hit part

Blockable
Reflectable
Absorbable
Flinchless

No GFX

Heedless

Clean hit
0
0
0
14.0%
0

Standard

65
72
0
4.0
top
0.0
15.0
0.0
1.0×
1.0×
0%
Kick
All
All
1
0
0
14.0%
0

Standard

65
72
0
4.0
top
0.0
18.0
0.0
1.0×
1.0×
0%
Kick
All
All
2
0
0
14.0%
0

Standard

65
72
0
4.0
top
0.0
21.0
0.0
1.0×
1.0×
0%
Kick
All
All
Late hit
0
0
0
10.0%
0

Standard

10
95
0
4.0
top
0.0
15.0
0.0
1.0×
1.0×
0%
Kick
All
All
1
0
0
10.0%
0

Standard

10
95
0
4.0
top
0.0
18.0
0.0
1.0×
1.0×
0%
Kick
All
All
2
0
0
10.0%
0

Standard

10
95
0
4.0
top
0.0
21.0
0.0
1.0×
1.0×
0%
Kick
All
All
| | |
| --- | --- |
| Initial autocancel | 1-4 |
| Clean hit | 10-12 |
| Late hit | 13-23 |
| Ending autocancel | 36- |
| Interruptible | 48 |
| Animation length | 57 |
Landing lag
[
edit
]
| | |
| --- | --- |
| Interruptible | 16 |
| Animation length | 31 |
| | | | |
| --- | --- | --- | --- |
| | | | Snake's moveset |