Snake (SSBU)/Neutral aerial
From SmashWiki, the Super Smash Bros. wiki
Jump to navigation
Jump to search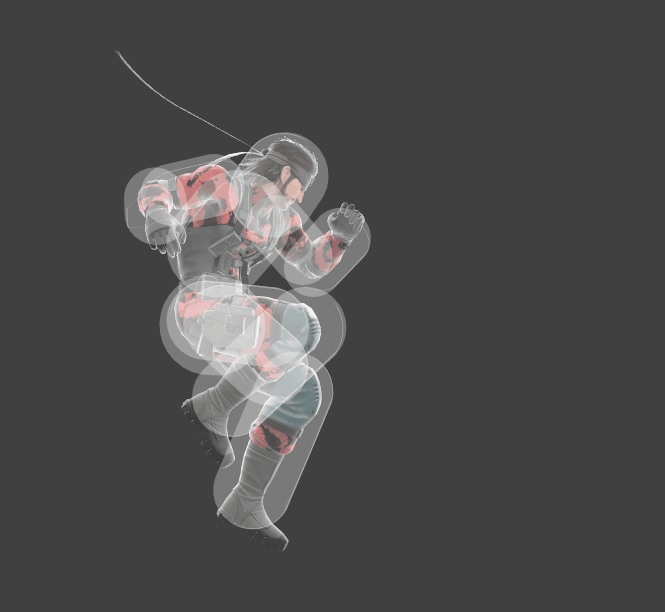 Overview
[
edit
]
Snake's performs a rapid flurry of four kicks. It deals very high damage if all hit connect, dealing 17.8% if done in a short hop or 21% if done in a full hop and is a useful tool for edgeguarding. It is an excellent confirm out of grenade explosions, being able to dish out absurd damage with a single opening and the fourth hit has powerful knockback, enabling it to KO at high percentages. However, an interesting property that the fourth hit has is that it is weight independent, meaning it KO's all characters around the same percentage.
The move also has potent combo potential. It can combo into a dash attack at low percents, and against heavyweights or fast fallers, can combo into jab or forward tilt at lower percent as well. In particular, on certain characters depending on their weight and fastest escape option (it generally works better on lighter characters), the first hit can combo into jab, forward tilt, or even up tilt for a potential KO setup if done in a short hop fast fall.
However, like the the rest of Snake's aerials, it is rather unsafe on shield and on whiff due to its decently high landing lag, and unlike many of Snake's other moves, it lacks a sizeable disjointed hitbox (aside from the last hit) which make it difficult to land, especially combined with Snake's low jumps.
Altogether, it is a move with potent strengths but should not be thrown out recklessly to avoid punishment. Nonetheless, it has good utility when used properly.
Hitboxes
[
edit
]
ID
Part

Rehit rate

Damage

SD

Angle

Angle type

BK

KS

FKV

Set weight

Radius
Bone

Offset

H×

SDI×

T%

Clang

Rebound

Effect
Type

G

A

Sound
Direct

Hit bits

Hit part

Blockable
Reflectable
Absorbable
Flinchless

No GFX

Heedless

Hit 1
0
0
0
3.0%
0

Standard

0
100
30
4.0
top
0.0
7.0
4.0 to 11.0
1.0×
1.0×
0%
Kick
All
All
1
0
0
3.0%
0

Standard

0
100
50
4.0
top
0.0
7.0
4.0 to 11.0
1.0×
1.0×
0%
Kick
All
All
Hits 2-3
0
0
0
3.0%
0

Standard

0
100
30
4.0
top
0.0
9.0
4.0 to 11.0
1.0×
1.0×
0%
Kick
All
All
1
0
0
3.0%
0

Standard

0
100
50
4.0
top
0.0
9.0
4.0 to 11.0
1.0×
1.0×
0%
Kick
All
All
Hit 4
0
0
0
12.0%
0

Forward

25
90
0
7.5
top
0.0
11.0
7.0
1.0×
1.0×
0%
Kick
All
All
| | |
| --- | --- |
| Initial autocancel | 1-3 |
| Hit 1 | 10-11 |
| Hits 2-3 | 18-19, 26-27 |
| Hit 4 | 36-38 |
| Ending autocancel | 50- |
| Interruptible | 60 |
| Animation length | 66 |
Landing lag
[
edit
]
| | |
| --- | --- |
| Interruptible | 17 |
| Animation length | 33 |
| | | | |
| --- | --- | --- | --- |
| | | | Snake's moveset |