Snake (SSBU)/Forward tilt/Hit 2
From SmashWiki, the Super Smash Bros. wiki
Jump to navigation
Jump to search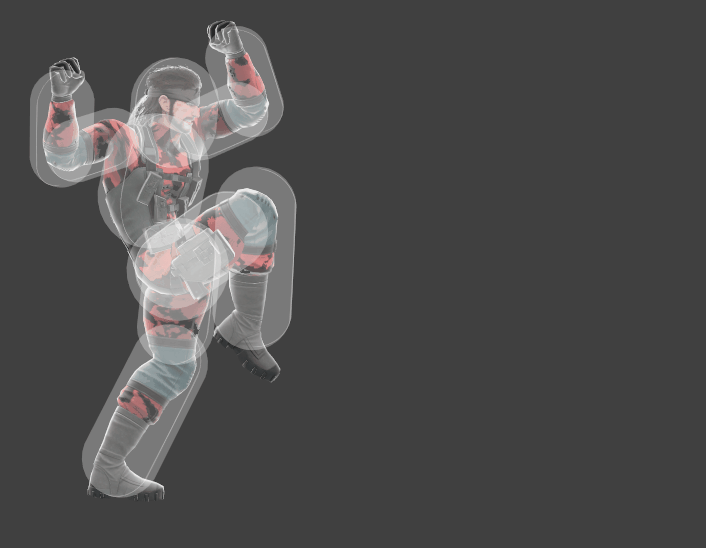 Overview
[
edit
]
The second hit of Snake's forward tilt is a downward swing of his fists that deals high knockback, even being capable of KOing near the ledge at high percents. Forward tilt 2's sweetspot has a grounded variant and an aerial variant, with the grounded version dealing slightly more damage that allows it to KO more reliably, although its aerial sweetspot has KO potential as well. It comes out fairly fast at frame 8, and its sweetspot has a rather large hitbox that is decently disjointed, going relatively far beyond Snake's fists.
However, the attack is not without its drawbacks. It has high ending lag, making it rather unsafe on shield and risky to use, as it can easily render Snake susceptible to punishment if it is whiffed, dodged, or shielded (although it can be difficult to punish out of shield if it is spaced well). Additionally, unlike forward tilt's first hit which has two active frames, the second hit only possesses one. As a result, it requires the player to have good precision, as it can be very easy to whiff, despite its decent range. Most significantly however, it has trouble connecting with the opponent at high percents as a result of the first hit's vertical angle and low knockback.
Altogether, Snake's forward tilt is a highly useful and effective move in close quarters thanks to its combination of its quick startup, strength, and high shield damage. However, consistently landing both hits can be difficult the higher the opponent's percent while its high ending lag can leave Snake in a vulnerable position for a punish. Regardless, it possesses a great deal of utility when properly executed.
Hitboxes
[
edit
]
ID
Part

Rehit rate

Damage

SD

Angle

Angle type

BK

KS

FKV

Set weight

Radius
Bone

Offset

H×

SDI×

T%

Clang

Rebound

Effect
Type

G

A

Sound
Direct

Hit bits

Hit part

Blockable
Reflectable
Absorbable
Flinchless

No GFX

Heedless

0
0
0
9.0%
3.0

Forward

85
62
0
4.5
top
0.0
8.5
4.0
1.0×
1.0×
0%
Punch
All
All
1
0
0
11.0%
3.0

Forward

85
62
0
6.0
top
0.0
10.0
10.0
1.0×
1.0×
0%
Punch
All
All
2
0
0
10.0%
3.0

Forward

85
62
0
6.0
top
0.0
10.0
10.0
1.0×
1.0×
0%
Punch
All
All
| | |
| --- | --- |
| Hitboxes | 8 |
| Interruptible | 40 |
| Animation length | 56 |
| | | | |
| --- | --- | --- | --- |
| | | | Snake's moveset |