Mii Brawler (SSBU)/Back aerial
From SmashWiki, the Super Smash Bros. wiki
Jump to navigation
Jump to search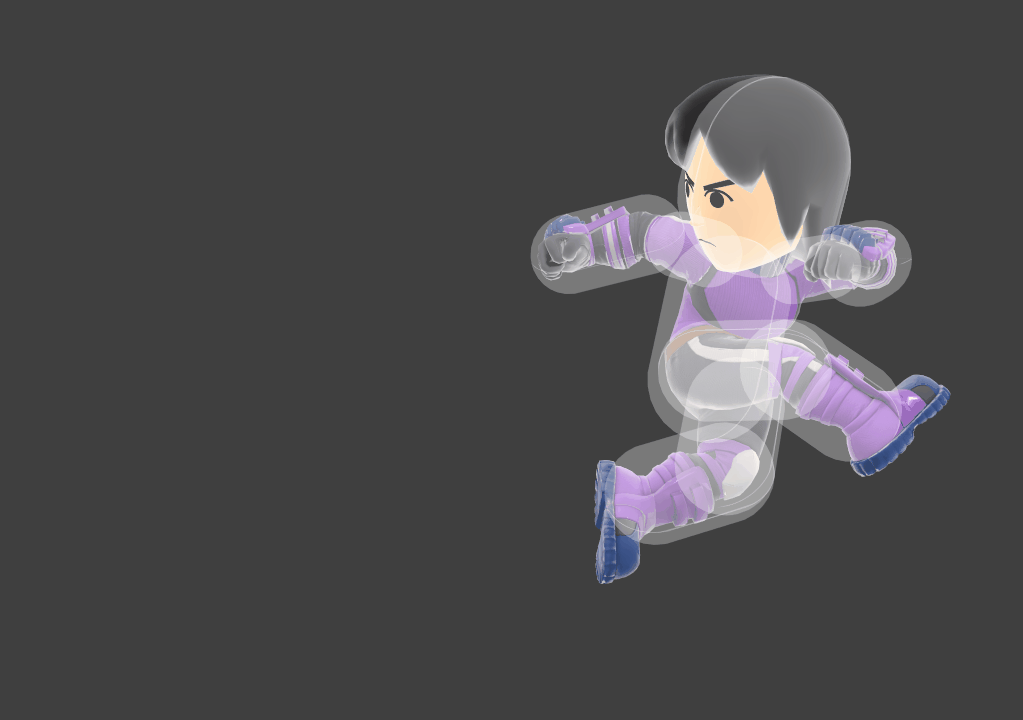 Overview
[
edit
]
Mii Brawler sticks their leg out to deliver a powerful kick. While it is only active for a few frames, it has no weak hitbox, staying consistent throughout the duration of the move. Due to Mii Brawler's notably high vertical airspeed, they are capable of quickly rising or rapidly falling to catch an opponent's option, especially if they're near ledge where their options are more heavily restricted. In addition, Brawler can kill confirm into back aerial using a weak neutral aerial and attack cancelling into it around 110%. While the move is most often used to kill opponents near ledge, it also has uses as a combo tool and damage-dealing move, as it deals the second-most damage out of Brawlers aerials, only behind down aerial, and is usable in many true combos, such as down tilt to attack cancel back aerial, or down throw to turnaround full Hop back aerial. In addition, using the move on a grounded opponent at a low-enough percent to where they do not get launched can lead into a grab or dash attack, though the timing window for connecting a follow-up is tight.
This move can be auto-cancelled out of a short hop, if buffered.
Update History
[
edit
]
Back aerial has less landing lag.
Hitboxes
[
edit
]
ID
Part

Rehit rate

Damage

SD

Angle

Angle type

BK

KS

FKV

Set weight

Radius
Bone

Offset

H×

SDI×

T%

Clang

Rebound

Effect
Type

G

A

Sound
Direct

Hit bits

Hit part

Blockable
Reflectable
Absorbable
Flinchless

No GFX

Heedless

0
0
0

12.0%

0

Backward

10
105
0
4.7
kneer
5.0
0.0
0.0
1.0×
1.0×
0%
Kick
All
All
1
0
0

12.0%

0

Backward

10
105
0
4.3
legr
1.6
0.0
0.0
1.0×
1.0×
0%
Kick
All
All
| | |
| --- | --- |
| Initital autocancel | 1 |
| Hitboxes | 7-9 |
| Ending autocancel | 28- |
| Interruptible | 40 |
| Animation length | 62 |
Landing lag
[
edit
]
| | |
| --- | --- |
| Interruptible | 12 |
| Animation length | 27 |
| | | | |
| --- | --- | --- | --- |
| | | | Mii Brawler's moveset |