Mii Brawler (SSBU)/Up tilt
From SmashWiki, the Super Smash Bros. wiki
Jump to navigation
Jump to search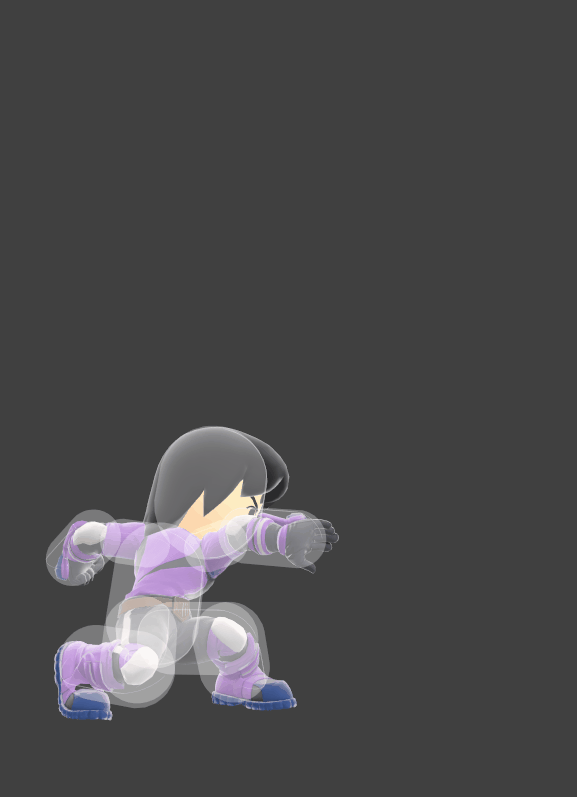 This article or section may require competitive expertise.
You can discuss this issue on the talk page or edit this page to improve it.
Overview
Mii Brawler puts his entire body into a lengthy uppercut, sweeping the area directly in front of and above him. Up Tilt acts as a general combo tool for Brawler at mid-percents and a niche kill confirm move at higher percents. Around 20% to 50% on most characters, the move can be comboed into and out of using a wealth of moves including his Neutral and Up Aerials, leading to very damaging strings that give the opponent little time - if any - to escape. At higher percents, Up Tilt can be used to lead into Helicopter Kick or Thrust Uppercut, moves that kill reliably near the ledge and near the upper blast zone respectively, leading to potentially early KOs.
In addition, Up Tilt hits remarkably low, letting it connect with some fighters' ledge hanging animations.
Hitboxes
ID
Part
Damage

SD

Angle

BK

KS

FKV

Radius
Bone

Offset

SDIx

FFx

T%

Clang

Rebound

Type
Effect

G

A

Sound
Direct
0
0
6.0%
0
28
130
0
4.0
arml
0.0
0.0
0.0
1.0x
1.0x
0%
Punch
1
0
6.0%
0
28
130
0
5.2
arml
4.0
0.0
0.0
1.0x
1.0x
0%
Punch
Timing
| | |
| --- | --- |
| Hitboxes | 5-12 |
| Interruptible | 30 |
| Animation length | 55 |
| | | | |
| --- | --- | --- | --- |
| | | | Mii Brawler's moveset |