Mario (SSBU)/Final Smash
From SmashWiki, the Super Smash Bros. wiki
Jump to navigation
Jump to search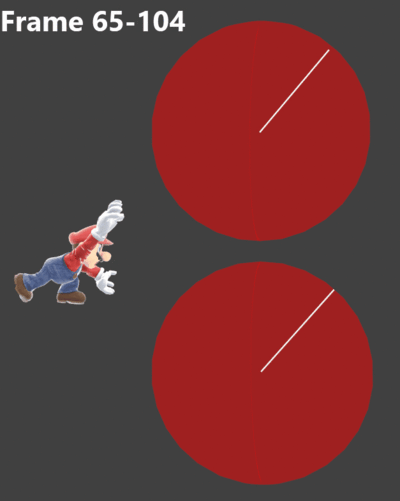 Overview
[
edit
]
A smash original. Mario unleashes a large wave of fire to push opponents off the stage. At lower percents, opponents may fall out of the final smash. It also has no finishing hitbox, so the final smash needs to be positioned so that it will carry opponents into the blastzone. The final smash will connect consistently around 50% or above. If used in the air, it pushes Mario backwards a little, as well as give him a little jump upwards, so it can also be used as a desperate recovery tool when aimed away from the stage.
Update History
[
edit
]
Mario Finale's Final Smash Meter version has a higher knockback multiplier (0.9× → 0.91×).
At the start of Mario Finale, nearby opponents will be slowed down for a longer period.
Mario Finale deals more damage per hit (2% (early)/2.5% (clean)/3% (late) → 2.5%/3%/3.5%).
The fireballs' hitboxes stretch vertically (Y offset: 0u, -3u—3u), increasing their range and making the Final Smash harder to escape.
Hitboxes
[
edit
]
ID
Part

Rehit rate

Damage

SD

Angle

Angle type

BK

KS

FKV

Set weight

Radius
Bone

Offset

H×

SDI×

T%

Clang

Rebound

Effect
Type

G

A

Sound
Direct

Hit bits

Hit part

Blockable
Reflectable
Absorbable
Flinchless

No GFX

Heedless

Early hits
0
0
7
2.5%
0

Forward

25
40
0
16.0
fire1
0.0
-3.0 to 3.0
0.0
0.0×
0.8×
0%
Fire
All
All
1
0
7
2.5%
0

Forward

25
40
0
16.0
fire2
0.0
-3.0 to 3.0
0.0
0.0×
0.8×
0%
Fire
All
All
Mid hits
0
0
7
3.0%
0

Forward

20
90
0
16.0
fire1
0.0
-3.0 to 3.0
0.0
0.0×
0.8×
0%
Fire
All
All
1
0
7
3.0%
0

Forward

20
90
0
16.0
fire2
0.0
-3.0 to 3.0
0.0
0.0×
0.8×
0%
Fire
All
All
2
0
7
3.0%
0

Forward

15
100
0
16.0
fire1
0.0
-3.0 to 3.0
0.0
0.0×
0.8×
0%
Fire
All
All
3
0
7
3.0%
0

Forward

15
100
0
16.0
fire2
0.0
-3.0 to 3.0
0.0
0.0×
0.8×
0%
Fire
All
All
Late hits
0
0
7
3.5%
0

Forward

10
120
0
16.0
fire1
0.0
-3.0 to 3.0
0.0
0.0×
0.8×
0%
Fire
All
All
1
0
7
3.5%
0

Forward

10
120
0
16.0
fire2
0.0
-3.0 to 3.0
0.0
0.0×
0.8×
0%
Fire
All
All
2
0
7
3.5%
0

Forward

5
130
0
16.0
fire1
0.0
-3.0 to 3.0
0.0
0.0×
0.8×
0%
Fire
All
All
3
0
7
3.5%
0

Forward

5
130
0
16.0
fire2
0.0
-3.0 to 3.0
0.0
0.0×
0.8×
0%
Fire
All
All
| | |
| --- | --- |
| Fireballs generated | 5 |
| Early hits | 65-104 (rehit rate: 7) |
| Mid hits | 105-154 (rehit rate: 7) |
| Late hits | 155-224 (rehit rate: 7) |
| Interruptible (grounded) | 157 |
| Interruptible (aerial) | 147 |
| Animation length | 179 |
| Fireballs  | | | | | | | | | | | | | | | | | | | | | | | | | | | | | | | | | | | | | | | | | | | | | | | | | | | | | | | | | | | | | | | | | | | | | | | | | | | | | | | | | | | | | | | | | | | | | | | | | | | | | | | | | | | | | | | | | | | | | | | | | | | | | | | | | | | | | | | | | | | | | | | | | | | | | | | | | | | | | | | | | | | | | | | | | | | | | | | | | | | | | | | | | | | | | | | | | | | | | | | | | | | | | | | | | | | | | | | | | | | | | | | | |
| --- | --- | --- | --- | --- | --- | --- | --- | --- | --- | --- | --- | --- | --- | --- | --- | --- | --- | --- | --- | --- | --- | --- | --- | --- | --- | --- | --- | --- | --- | --- | --- | --- | --- | --- | --- | --- | --- | --- | --- | --- | --- | --- | --- | --- | --- | --- | --- | --- | --- | --- | --- | --- | --- | --- | --- | --- | --- | --- | --- | --- | --- | --- | --- | --- | --- | --- | --- | --- | --- | --- | --- | --- | --- | --- | --- | --- | --- | --- | --- | --- | --- | --- | --- | --- | --- | --- | --- | --- | --- | --- | --- | --- | --- | --- | --- | --- | --- | --- | --- | --- | --- | --- | --- | --- | --- | --- | --- | --- | --- | --- | --- | --- | --- | --- | --- | --- | --- | --- | --- | --- | --- | --- | --- | --- | --- | --- | --- | --- | --- | --- | --- | --- | --- | --- | --- | --- | --- | --- | --- | --- | --- | --- | --- | --- | --- | --- | --- | --- | --- | --- | --- | --- | --- | --- | --- | --- | --- | --- | --- | --- | --- | --- | --- | --- | --- | --- | --- | --- | --- | --- | --- | --- | --- | --- | --- | --- | --- | --- | --- | --- | --- | --- | --- | --- | --- | --- | --- | --- | --- | --- | --- | --- | --- | --- | --- | --- | --- | --- | --- | --- | --- | --- | --- | --- | --- | --- | --- | --- | --- | --- | --- | --- | --- | --- | --- | --- | --- | --- | --- | --- | --- | --- | --- | --- |
| Grounded  | | | | | | | | | | | | | | | | | | | | | | | | | | | | | | | | | | | | | | | | | | | | | | | | | | | | | | | | | | | | | | | | | | | | | | | | | | | | | | | | | | | | | | | | | | | | | | | | | | | | | | | | | | | | | | | | | | | | | | | | | | | | | | | | | | | | | | | | | | | | | | | | | | | | | | | | | | | | | | | | | | | | | | | | | | | | | | | | | | | | | | | | | | | | | | | | | | | | | | | | | | | | | | | | | | | | | | | | | | | | | | | | |
| Aerial  | | | | | | | | | | | | | | | | | | | | | | | | | | | | | | | | | | | | | | | | | | | | | | | | | | | | | | | | | | | | | | | | | | | | | | | | | | | | | | | | | | | | | | | | | | | | | | | | | | | | | | | | | | | | | | | | | | | | | | | | | | | | | | | | | | | | | | | | | | | | | | | | | | | | | | | | | | | | | | | | | | | | | | | | | | | | | | | | | | | | | | | | | | | | | | | | | | | | | | | | | | | | | | | | | | | | | | | | | | | | | | | | |