Luigi (SSBU)/Neutral aerial
From SmashWiki, the Super Smash Bros. wiki
Jump to navigation
Jump to search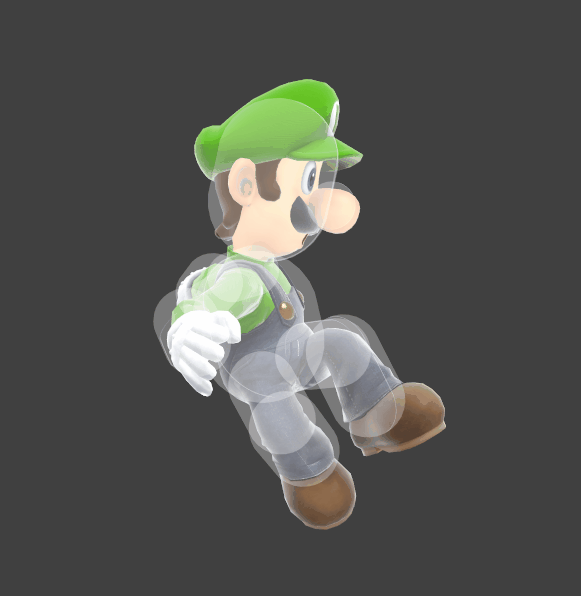 Overview
[
edit
]
Luigi performs a short kick, with the front leg stretched out while the back leg remains close to his body. It is Luigi's fastest aerial and the second strongest in terms of damage, but does not kill until very high percents. Due to its low base knockback, low landing lag, very fast startup, and completely vertical launch angle, it is one of Luigi's most used moves when it comes to his combos. When used while landing it is capable of setting up into all of Luigi's moves at varying percents, with the exception of Down Taunt.
It has no sourspot, however it does have a lingering late hit that is much weaker than the early hit. This hit does not combo very well at very low percents, however the lower knockback allows it to continue being a combo starter past percents where the early hit launches too far. The trajectory of the late hit is a few degrees off of being entirely vertical.
When platforms are present, the vertical launch angle allows it to be used to place opponents onto platforms, or in a position where another aerial can allow Luigi to utilize the platform to extend a combo. At certain percent ranges depending on weight, the opponent can be forced into a tech situation that Luigi can use to earn himself a K.O.
Because of Luigi's slow and floaty jump, along with the move's interruptibility, it isn't very useful when rising, being negative on hit until high percents, or when connecting with the final frames that it is active. The hitbox only covers below Luigi and as such isn't a great anti-air, but the speed allows it to break combos and in turn give Luigi advantage if he lands soon after.
Hitboxes
[
edit
]
ID
Part

Rehit rate

Damage

SD

Angle

Angle type

BK

KS

FKV

Set weight

Radius
Bone

Offset

H×

SDI×

T%

Clang

Rebound

Effect
Type

G

A

Sound
Direct

Hit bits

Hit part

Blockable
Reflectable
Absorbable
Flinchless

No GFX

Heedless

Clean hit
0
0
0
12.0%
0

Standard

20
90
0
4.5
kneel
1.1
0.0
0.0
1.0×
1.0×
0%
Kick
All
All
1
0
0
12.0%
0

Standard

20
90
0
4.0
kneer
1.0
0.0
0.0
1.0×
1.0×
0%
Kick
All
All
Late hit
0
0
0
6.0%
0

Standard

20
100
0
3.0
kneel
1.0
0.0
0.0
1.0×
1.0×
0%
Kick
All
All
1
0
0
6.0%
0

Standard

20
100
0
2.5
kneer
1.0
0.0
0.0
1.0×
1.0×
0%
Kick
All
All
| | |
| --- | --- |
| Initial autocancel | 1-2 |
| Clean hit | 3-5 |
| Late hit | 6-31 |
| Ending autocancel | 36- |
| Interruptible | 45 |
| Animation length | 51 |
Landing lag
[
edit
]
| | |
| --- | --- |
| Interruptible | 9 |
| Animation length | 24 |