Luigi (SSBU)/Down taunt
From SmashWiki, the Super Smash Bros. wiki
Jump to navigation
Jump to search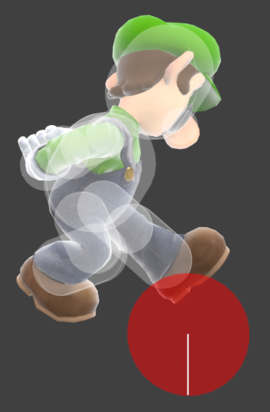 Overview
Luigi bashfully kicks the ground, powerfully meteor smashing anyone hit by it. Being the strongest meteor smash at low % thanks to its high set knockback, it has its uses in competitive play. It is most effective after a ledge regrab, making it relatively useful after a ledge trump. Its high set knockback combined with SSBU's grounded meteor smash mechanics make it an effective combo starter at any percent.
However, the move possesses gaping flaws. It is Luigi's slowest move, coming out on frame 45. It also has a duration of only a single frame and a small hitbox placed at an extremely low angle. These traits make it awkward to execute the attack in practice and renders it highly predictable. The move's low range is also easily beat by disjointed recovery moves like Dolphin Slash.
Overall, down taunt is a fringe option that is rarely seen in practice due to sluggish speed and difficulty in landing the attack.
Hitboxes
ID
Part
Damage

SD

Angle

BK

KS

FKV

Radius
Bone

Offset

SDIx

FFx

T%

Clang

Rebound

Type
Effect

G

A

Sound
Direct

Rehit rate

0
0
2.0%
0
0
100
180
3.0
top
0.0
-1.0
5.5
1.0x
1.0x
0%
Bat
8
Timing
| | |
| --- | --- |
| Hitboxes | 45 |
| Interruptible | 70 |
| Animation length | 69 |
Trivia
This move has a rehit rate of 8. However, due to its extremely short duration, it never comes into play.