Luigi (SSBU)/Dash attack
From SmashWiki, the Super Smash Bros. wiki
Jump to navigation
Jump to search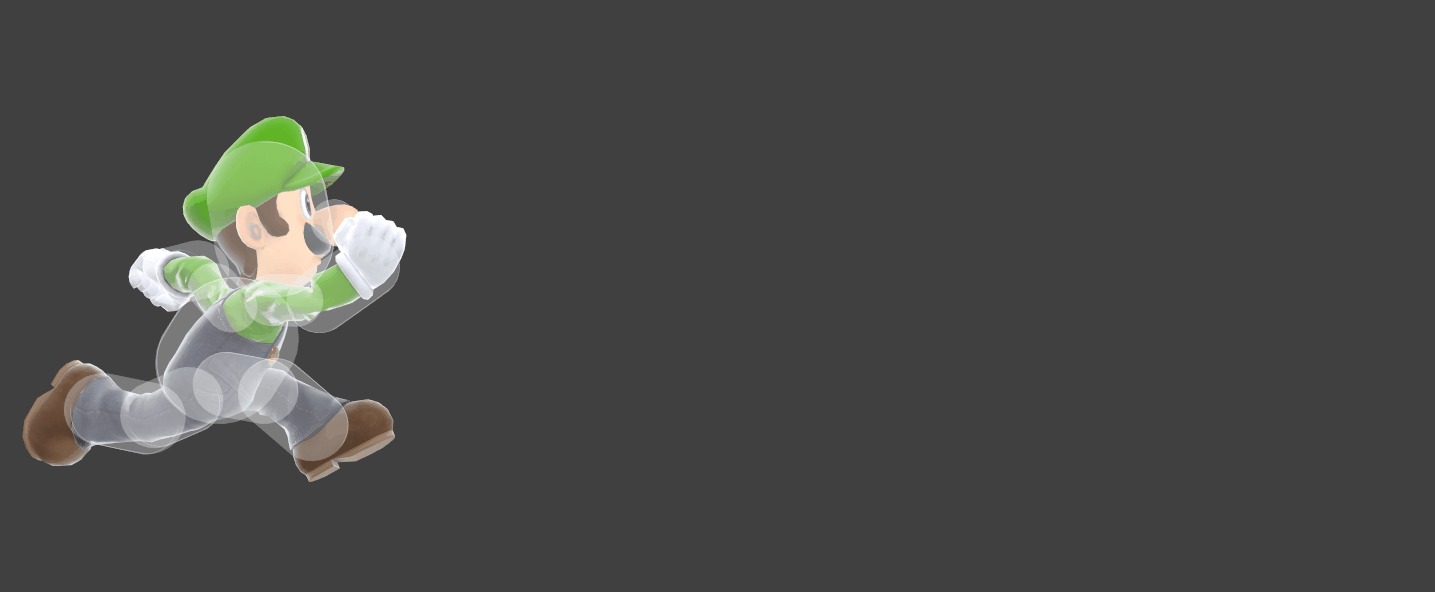 Overview
[
edit
]
Luigi childishly throws punches whilst dashing forward. His second fastest grounded option, out-sped by his frame 2 jab, Luigi's dash attack makes for his best burst option, and especially useful when perfect shielding a longer ranged move. At high percents, it is able to KO opponents, making it great for when Super Jump Punch cannot reach in time or when dash grab is too slow, although the lengthy animation and high hitlag multiplier on the final hit make it easier to DI on reaction. While it is possible to SDI the move, the low hitlag multiplier of 0.5x makes it a bit more difficult to do so. It is also unsafe on shield even if it crosses up, and if it completely whiffs, the lengthy animation can lead to a punish on Luigi.
Update History
[
edit
]
Dash attack has lower base knockback on hits 1-4 (51/74 → 38/60 (hits 1-3), 51/74 → 24/48 (hit 4)) and altered angles on the 4th hit (0° → 15°/10°), allowing the move to link more consistently.

The last two hits are now weight independent, meaning dash attack kills heavy characters sooner and light characters later.
The last hit of dash attack is no longer weight-independent.
Hitboxes
[
edit
]
ID
Part

Rehit rate

Damage

SD

Angle

Angle type

BK

KS

FKV

Set weight

Radius
Bone

Offset

H×

SDI×

T%

Clang

Rebound

Effect
Type

G

A

Sound
Direct

Hit bits

Hit part

Blockable
Reflectable
Absorbable
Flinchless

No GFX

Heedless

Hits 1-3
0
0
0
2.0%
0

Forward

38
10
0
3.6
top
0.0
8.2
8.0
0.5×
1.0×
0%
Luigi Dash Attack
All
All
1
0
0
2.0%
0

Forward

60
10
0
4.0
top
0.0
8.2
2.0
0.5×
1.0×
0%
Luigi Dash Attack
All
All
Hit 4
0
0
0
2.0%
0

Forward

24
10
0
3.6
top
0.0
8.2
8.0
0.5×
1.0×
0%
Luigi Dash Attack
All
All
1
0
0
2.0%
0

Forward

48
10
0
4.0
top
0.0
8.2
2.0
0.5×
1.0×
0%
Luigi Dash Attack
All
All
Hit 5
0
0
0
4.0%
0

Forward

60
128
0
5.0
top
0.0
8.0
12.0
2.5×
1.0×
0%
Luigi Dash Attack
All
All
1
0
0
4.0%
0

Forward

60
128
0
4.0
top
0.0
8.0
5.0
2.5×
1.0×
0%
Luigi Dash Attack
All
All
| | |
| --- | --- |
| Hits 1-4 | 4, 8, 12, 16 |
| Hit 5 | 25 |
| Interruptible | 48 |
| Animation length | 55 |