Luigi (SSBU)/Back aerial
From SmashWiki, the Super Smash Bros. wiki
Jump to navigation
Jump to search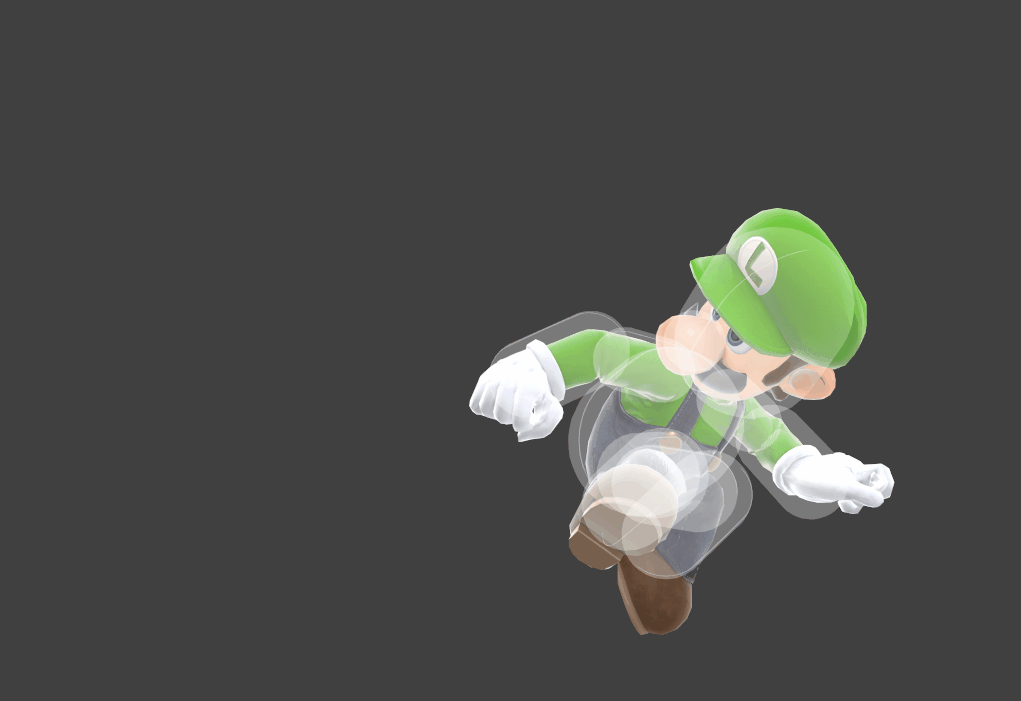 Overview
[
edit
]
Luigi performs a dropkick behind himself. It is Luigi's strongest aerial when sweetspotted, easily being able to K.O. at respectable percentages. Its power is highly useful when finishing a combo, sending far off stage for the potential of an edgeguard. It is most useful at high percent, after a down throw or nair, being a more reliable K.O. move than Luigi Cyclone on stages with high upper blast lines. At low percent, it is even able to start combos into Luigi's other grounded moves.
Its sourspot and late hit also begin to start effective combos when landing at mid percentages. Luigi is able to link into all of his tilts, dash attack, fast aerials such as Nair, and even his grab depending on the percent.
At mid percentages, the sweetspot it will begin putting opponents into a tumble state, forcing the character into a difficult to react tech situation where Luigi can potentially jablock and get a K.O. Depending on the DI and the character's fall speed, he can confirm a jablock while rising, but it's more commonly seen when landing. The sourspot and late hit are able to set this up as well at high percentages.
Because of Luigi's high jumps, back aerial isn't very useful when rising in neutral. Its sweetspot is unable to hit the majority of characters when standing and the weak hit does not serve any purpose until it knocks into tumble as it's not safe enough on hit otherwise. As such, it is most useful as a combo finisher when rising, a combo starter when landing and a general kill move off the stage or against opponents that are airborne.
Hitboxes
[
edit
]
ID
Part

Rehit rate

Damage

SD

Angle

Angle type

BK

KS

FKV

Set weight

Radius
Bone

Offset

H×

SDI×

T%

Clang

Rebound

Effect
Type

G

A

Sound
Direct

Hit bits

Hit part

Blockable
Reflectable
Absorbable
Flinchless

No GFX

Heedless

Clean hit
0
0
0
14.0%
0

Backward

12
100
0
4.5
kneer
4.0
0.0
0.0
1.0×
1.0×
0%
Kick
All
All
1
0
0
8.0%
0

Backward

12
100
0
5.8
legr
1.6
0.0
0.0
1.0×
1.0×
0%
Kick
All
All
Late hit
0
0
0
8.0%
0

Backward

12
100
0
4.0
kneer
4.0
0.0
0.0
1.0×
1.0×
0%
Kick
All
All
1
0
0
8.0%
0

Backward

12
100
0
5.0
legr
1.6
0.0
0.0
1.0×
1.0×
0%
Kick
All
All
| | |
| --- | --- |
| Initial autocancel | 1-2 |
| Clean hit | 6-7 |
| Late hit | 8-13 |
| Ending autocancel | 33- |
| Interruptible | 45 |
| Animation length | 51 |
Landing lag
[
edit
]
| | |
| --- | --- |
| Interruptible | 11 |
| Animation length | 28 |