Ganondorf (SSBU)/Up tilt
From SmashWiki, the Super Smash Bros. wiki
Jump to navigation
Jump to search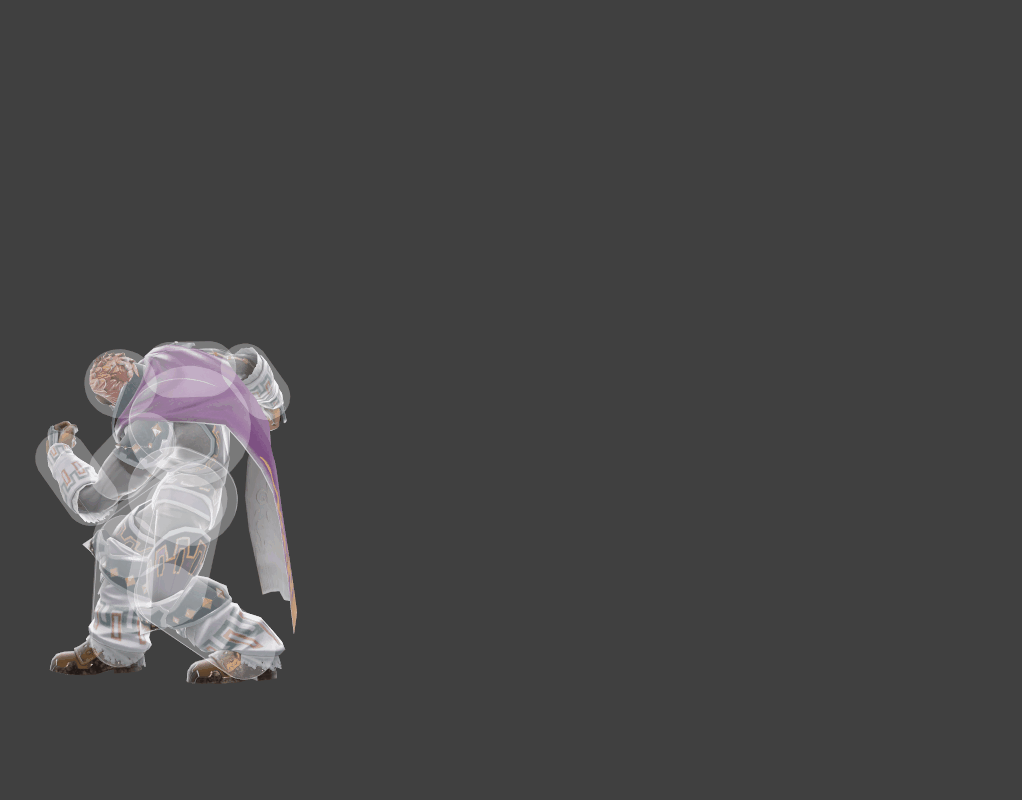 Overview
[
edit
]
Ganondorf lifts his leg up and hangs it up for nearly a full second before violently slamming it down. Sometimes jokingly called "the stanky leg", the move is able to hit below ledge, allowing it to be used for a two frame punish, but the extreme startup lag makes the timing for two frames extremely specific and hard to pull off. The sweetspot also breaks shields instantly, meaning that with the right setup, it can be a devastating edge guard tool. However, it lacks utility most of the time due to it being too slow and too strong to combo or serve any other utility.
Update History
[
edit
]
Up tilt's windboxes no longer affect items or attackable stage elements. Notably, this prevents Ganondorf from riding on rolling crates at high speed.
Hitboxes
[
edit
]
The clean hit is set to trigger a Special Zoom if it connects.
Due to the 0° angle's special behavior in Ultimate, the late sourspot's angle changes to 32° if it deals knockback of at least 120 units. Under normal damage and knockback conditions, this takes effect at the 110%-120% percent range against middleweights.
ID
Part

Rehit rate

Damage

SD

Angle

Angle type

BK

KS

FKV

Set weight

Radius
Bone

Offset

H×

SDI×

T%

Clang

Rebound

Effect
Type

G

A

Sound
Direct

Hit bits

Hit part

Blockable
Reflectable
Absorbable
Flinchless

No GFX

Heedless

Windboxes
0
0
6
0.0%
0

Standard

0
100
22
10.0
top
0.0
5.0
30.0
0.0×
0.0×
0%
None
Fighter only
All
1
0
6
0.0%
0

Standard

0
100
22
10.0
top
0.0
25.0
30.0
0.0×
0.0×
0%
None
Fighter only
All
2
0
6
0.0%
0

Standard

0
100
10
10.0
top
0.0
5.0
6.0
0.0×
0.0×
0%
None
Fighter only
All
3
0
6
0.0%
0

Standard

0
100
10
10.0
top
0.0
25.0
6.0
0.0×
0.0×
0%
None
Fighter only
All
Clean hit
0
0
0
24.0%
20

Forward

60
68
0
5.0
legr
3.0
0.0
0.0
1.0×
1.0×
0%
Fire
All
All
1
0
0
24.0%
20

Forward

60
68
0
5.0
legr
9.0
0.0
0.0
1.0×
1.0×
0%
Fire
All
All
2
0
0
24.0%
20

Forward

60
80
0
6.0
top
0.0
4.0
16.0
1.0×
1.0×
0%
Fire
All
All
3
0
0
24.0%
20

Forward

60
80
0
9.0
top
0.0
7.0 to 13.0
16.0
1.0×
1.0×
0%
Fire
All
All
Late hit
0
0
0
24.0%
20

Forward

60
68
0
5.0
legr
3.0
0.0
0.0
1.0×
1.0×
0%
Fire
All
All
1
0
0
24.0%
20

Forward

60
68
0
5.0
legr
9.0
0.0
0.0
1.0×
1.0×
0%
Fire
All
All
2
0
0
24.0%
20

Forward

60
80
0
6.0
top
0.0
4.0
16.0
1.0×
1.0×
0%
Fire
All
All
3
0
0
13.0%
20

Forward

0
80
0
6.0
top
0.0
7.0 to 22.0
16.0
1.0×
1.0×
0%
Fire
All
All
| | |
| --- | --- |
| Windboxes | 6-52 (rehit rate: 6) |
| Clean hit | 60-61 |
| Late hit | 62-63 |
| Interruptible | 95 |
| Animation length | 109 |
Special Zoom parameters
[
edit
]
| | |
| --- | --- |
| Duration | 40 frames |
| Slowdown magnitude | 4 |
| Zoom rate | 4 |
| Time before zoom | 3 frames |
| Background duration (non-1v1) | 30 frames |