Ganondorf (SSBU)/Neutral aerial
From SmashWiki, the Super Smash Bros. wiki
Jump to navigation
Jump to search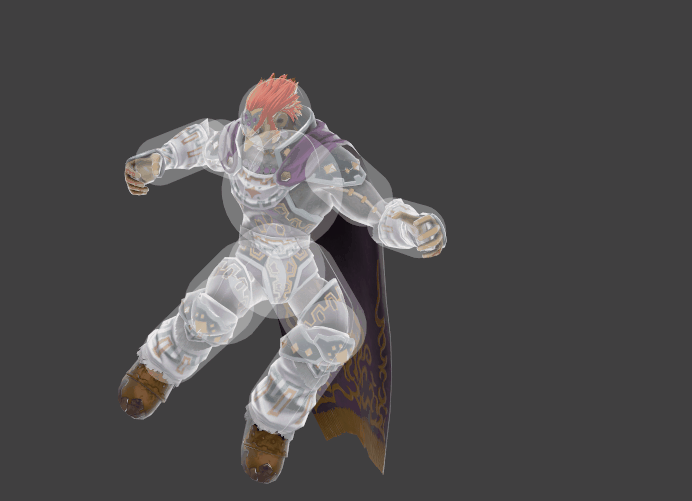 Overview
[
edit
]
Ganondorf throws two back-to-back kicks, the first one sending the opponent into the other. With an enormous hitbox, a great safety on shield, low lag, incredible damage and surprising kill power, this move is the backbone of Ganondorf's gameplan in competitive play. It is usually used in Neutral game to outspace te opponent and combo into Grab, in Advantage state to finish up Ganondorf's short combo and kill, and in Disadvantage state to threaten a reversal and try to get back into a more comfortable position.
It is also one of the best Edgeguarding tools in the game, its very large and active hitboxes letting him win or trade blows against most of its opponent's recovery options.
However, the move suffers from consistency issues, the first hit often sending the opponent too far up to combo into the second hit, making it very tricky to edgeguard with. Though this first hit also has some very niche combo potential, notably with Grab or Jab.
Hitboxes
[
edit
]
ID
Part

Rehit rate

Damage

SD

Angle

Angle type

BK

KS

FKV

Set weight

Radius
Bone

Offset

H×

SDI×

T%

Clang

Rebound

Effect
Type

G

A

Sound
Direct

Hit bits

Hit part

Blockable
Reflectable
Absorbable
Flinchless

No GFX

Heedless

Clean hit 1
0
0
0
7.0%
0

Standard

20
30
0
5.5
hip
0.0
0.0
0.0
1.0×
1.0×
0%
Heavy
All
All
1
0
0
7.0%
0

Standard

20
30
0
5.5
kneer
0.0
0.0
0.0
1.0×
1.0×
0%
Heavy
All
All
2
0
0
7.0%
0

Standard

50
110
0
4.3
kneer
6.0
0.0
0.0
1.0×
1.0×
0%
Heavy
All
All
3
0
0
7.0%
0

Standard

20
30
0
4.3
kneer
6.0
0.0
0.0
1.0×
1.0×
0%
Heavy
All
All
Late hit 1
0
0
0
5.25%
0

Standard

20
30
0
5.5
hip
0.0
0.0
0.0
1.0×
1.0×
0%
Heavy
All
All
1
0
0
5.25%
0

Standard

20
30
0
5.5
kneer
0.0
0.0
0.0
1.0×
1.0×
0%
Heavy
All
All
2
0
0
5.25%
0

Standard

50
110
0
4.3
kneer
6.0
0.0
0.0
1.0×
1.0×
0%
Heavy
All
All
3
0
0
5.25%
0

Standard

20
30
0
4.3
kneer
6.0
0.0
0.0
1.0×
1.0×
0%
Heavy
All
All
Clean hit 2
0
0
0
12.0%
0

Standard

25
106
0
7.8
kneel
6.5
0.0
-3.0
1.2×
1.0×
0%
Heavy
All
All
1
0
0
12.0%
0

Standard

25
106
0
7.0
kneel
0.0
0.0
-1.0
1.2×
1.0×
0%
Heavy
All
All
2
0
0
12.0%
0

Standard

25
106
0
6.5
hip
0.0
0.0
0.0
1.2×
1.0×
0%
Heavy
All
All
Late hit 2
0
0
0
9.0%
0

Standard

25
106
0
6.0
kneel
6.0
0.0
-3.0
1.2×
1.0×
0%
Heavy
All
All
1
0
0
9.0%
0

Standard

25
106
0
5.3
kneel
0.0
0.0
-1.0
1.2×
1.0×
0%
Heavy
All
All
2
0
0
9.0%
0

Standard

25
106
0
4.5
hip
0.0
0.0
0.0
1.2×
1.0×
0%
Heavy
All
All
| | |
| --- | --- |
| Initial autocancel | 1-3 |
| Clean hit 1 | 7-8 |
| Late hit 1 | 9-12 |
| Clean hit 2 | 17-18 |
| Late hit 2 | 19-26 |
| Ending autocancel | 38- |
| Interruptible | 41 |
| Animation length | 55 |
Landing lag
[
edit
]
| | |
| --- | --- |
| Interruptible | 11 |
| Animation length | 22 |