Fox (SSBM)/Forward aerial
From SmashWiki, the Super Smash Bros. wiki
Jump to navigation
Jump to search
Overview
[
edit
]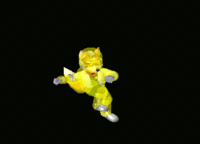 Fox does five consecutive kicks in front of himself. The move has a rather long duration, which can lead to cause occasional SDs. It has a slightly higher hitbox than neutral aerial, making it useful in certain situations. Forward aerial can mix up DI, and tack on damage at early percentages. It can also be a decent combo extender, like weak back aerial or neutral aerial. It has a couple of key uses:
- As a followup from Fox's up throw against fastfallers, as its low knockback will often leave them close enough to allow for a reaction tech chase.
- As a combo filling tool against floaties, who can often be hit with multiple hits as Fox rises with a jump, sometimes allowing for a combo into an uptilt or upsmash.
Hitboxes
[
edit
]
ID
Part
Damage

SD

Angle

BK

KS

FKV

Radius
Bone

Offset

Clang

Rebound

Effect

G

A

Sound
Hit 1
0
0
7%
0
10
100
0
5.15592
13
0.0
0.0
0.0
Kick
1
0
7%
0
10
100
0
5.15592
13
4.6872
0.0
0.0
Kick
Hit 2
0
0
5%
0
10
100
0
4.655952
7
0.0
0.0
0.0
Kick
1
0
5%
0
10
100
0
4.655952
7
4.6872
0.0
0.0
Kick
Hit 3
0
0
6%
0
10
100
0
4.655952
13
0.0
0.0
0.0
Kick
1
0
6%
0
10
100
0
4.655952
13
4.6872
0.0
0.0
Kick
Hit 4
0
0
4%
0
10
100
0
4.655952
7
0.0
0.0
0.0
Kick
1
0
4%
0
10
100
0
4.655952
7
4.6872
0.0
0.0
Kick
Hit 5
0
0
3%
0
50
100
0
4.655952
13
0.0
0.0
0.0
Kick
1
0
3%
0
50
100
0
4.655952
13
3.906
0.0
0.0
Kick
| | |
| --- | --- |
| Initial autocancel | 1-5 |
| Hitboxes | 6-8, 16-18, 24-26, 33-35, 43-45 |
| Ending autocancel | 49- |
| Interruptible | 53 |
| Animation length | 59 |
Landing lag
[
edit
]
| | |
| --- | --- |
| Animation length | 22 |
| L-cancelled animation length | 11 |
Similar moves
[
edit
]