Donkey Kong (SSBU)/Dash attack
From SmashWiki, the Super Smash Bros. wiki
Jump to navigation
Jump to search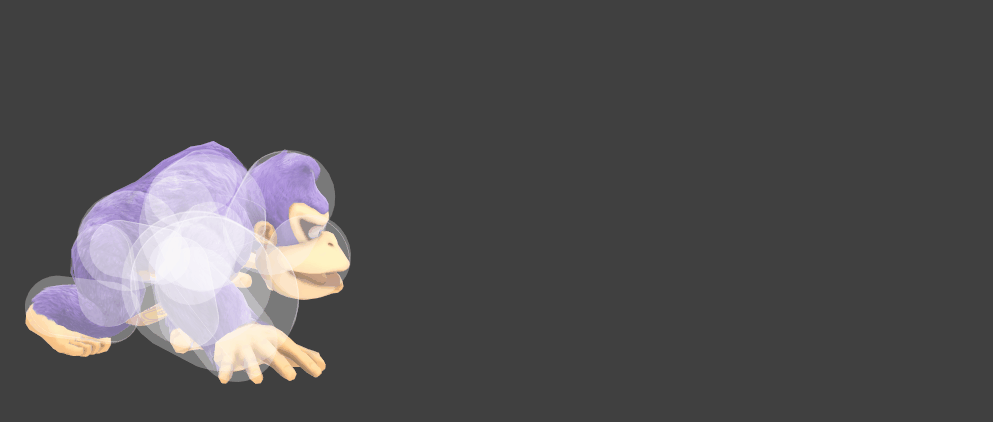 Overview
[
edit
]
DK's signature rolling attack from the Donkey Kong Country series is also one of his best moves in this game. It is an unreactable burst move that does good damage and combos into all sorts of things. The strong hit on frames 9-12 combos into back air, up air or forward tilt at low percents. The weak hit on frames 13-24 can combo into itself, grabs, tilts, and even fully charged Giant Punch. If it knocks the opponent offstage at low to mid percents, it can lead to forward air spikes if the opponent guesses wrong or isn't expecting it. Dash Attack has very high base knockback, but won't KO until extremely high percentages. The threat of this move can condition the opponent to shield, which opens them up for DK's grab.
Dash attack is -12 to -1 on block depending on how late it hits their shield. Although it can't normally crossup on block, it will if the opponent is right next to the edge. This can trick them into whiffing a shield grab, creating an opportunity to punish them instead.
Dash attack can catch items on frames 1-5, making it a useful approach option against characters that generate items. DK can also cancel the first 3 frames of dash attack into his dash grab or pivot grab (also know as Boost Grabbing). Doing so will slightly extend his grab range, but it barely makes any difference and adds a slight delay to the grab.
Hitboxes
[
edit
]
ID
Part

Rehit rate

Damage

SD

Angle

Angle type

BK

KS

FKV

Set weight

Radius
Bone

Offset

H×

SDI×

T%

Clang

Rebound

Effect
Type

G

A

Sound
Direct

Hit bits

Hit part

Blockable
Reflectable
Absorbable
Flinchless

No GFX

Heedless

Clean hit
0
0
0
12.0%
0

Forward

85
46
0
7.0
top
0.0
8.0
8.0
1.25×
1.0×
0%
Kick
All
All
Late hit
0
0
0
9.0%
0

Forward

60
60
0
5.5
top
0.0
8.0
5.2
1.25×
1.0×
0%
Kick
All
All
| | |
| --- | --- |
| Clean hit | 9-12 |
| Late hit | 13-24 |
| Interruptible | 35 |
| Animation length | 59 |