Donkey Kong (SSBU)/Back aerial
From SmashWiki, the Super Smash Bros. wiki
Jump to navigation
Jump to search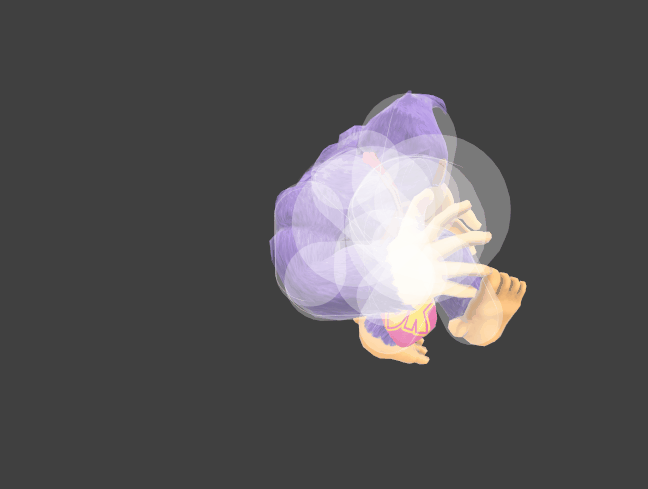 Overview
[
edit
]
DK's back aerial is his best aerial and one of the best air-to-air attacks in the game. It has good speed, reach, power, low endlag, and a lingering hitbox. The main things holding it back are higher than usual landing lag and DK's high short hop which makes rising back air whiff on shorter characters.
In neutral, back air is DK's main offensive aerial. It outspaces and/or trades favorably against most aerials. It is also DK's most reliable aerial to clang with projectiles. Defensively, back air is very effective at walling out characters with short range. The threat of back air establishes air superiority and can condition the opponent to stay on the ground, which further helps DK's stellar ground game. Rising back air can be used as a poke against taller characters, making it less predictable and harder to react to.
The strong hit of back air on frames 7-8 will KO at around 140% from center stage with DI when it's fresh. At low percents a clean hit can combo into itself, grabs, tilts, or start a tech chase. The weak hit on frames 9-16 combos into those at mid percents instead.
Edgeguarding with back air is an effective way to rack up damage and score KOs. DK can go surprisingly deep offstage, throw out 3-4 Bairs in quick succession, and still make it back. The lingering hitbox makes it easier to hit flexible recoveries and ledgegrab attempts. Weak hits can gimp them or combo into the clean hit of another Bair that does KO. Bair will always launch opponents in the opposite direction DK is facing. As long as you back air while DK is facing the ledge, the opponent won't be hit into the stage even if they are hugging the stage as they recover. Back air is also quick enough to true combo into after a successful ledge trump.
Back air is -6 on block at best, so it needs good spacing to be safe. The landing animation extends DK leg hurtbox and makes it easier to punish.
Hitboxes
[
edit
]
ID
Part

Rehit rate

Damage

SD

Angle

Angle type

BK

KS

FKV

Set weight

Radius
Bone

Offset

H×

SDI×

T%

Clang

Rebound

Effect
Type

G

A

Sound
Direct

Hit bits

Hit part

Blockable
Reflectable
Absorbable
Flinchless

No GFX

Heedless

Clean hit
0
0
0
13.0%
0

Backward

20
97
0
7.0
footl
1.0
-2.0
0.0
1.0×
1.0×
0%
Kick
All
All
1
0
0
13.0%
0

Backward

20
97
0
5.0
kneel
-1.0
0.0
0.0
1.0×
1.0×
0%
Kick
All
All
2
0
0
13.0%
0

Backward

20
97
0
5.0
hip
-1.0
0.0
0.0
1.0×
1.0×
0%
Kick
All
All
Late hit
0
0
0
8.0%
0

Backward

10
100
0
6.0
footl
1.0
-2.0
0.0
1.0×
1.0×
0%
Kick
All
All
1
0
0
8.0%
0

Backward

10
100
0
4.0
kneel
-1.0
0.0
0.0
1.0×
1.0×
0%
Kick
All
All
2
0
0
8.0%
0

Backward

10
100
0
4.0
hip
-1.0
0.0
0.0
1.0×
1.0×
0%
Kick
All
All
| | |
| --- | --- |
| Initial autocancel | 1-6 |
| Clean hit | 7-8 |
| Late hit | 9-16 |
| Ending autocancel | 31- |
| Interruptible | 32 |
| Animation length | 49 |
Landing lag
[
edit
]
| | |
| --- | --- |
| Interruptible | 12 |
| Animation length | 23 |