Donkey Kong (SSBM)/Dash attack
From SmashWiki, the Super Smash Bros. wiki
Jump to navigation
Jump to search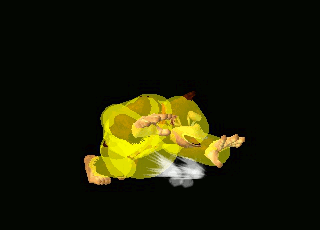 This article or section may require competitive expertise.
You can discuss this issue on the talk page or edit this page to improve it.
Overview
[
edit
]
Donkey Kong rushes forward before skidding to a halt, hands astray and foot afloat in midair. The move's middling frame data, horrendous hitbox properties, and lack of comboing potential make dash attack barren in usage. While the move is disjointed and can catch an opposing character off guard, other options such as his up throw and his down tilt are far more consistent in providing genuinely useful qualities throughout a game-to-game basis. This extends to being considered as his worst move overall, and by extension, one of Melee's worst moves in the entire game.
Hitboxes
[
edit
]
ID
Part
Damage

SD

Angle

BK

KS

FKV

Radius
Bone

Offset

Clang

Rebound

Effect

G

A

Sound
Clean hit
0
0
11%
1
115
15
0
5.987898
7
3.906
0.0
0.0
Kick
1
0
11%
1
115
15
0
4.6872
7
0.0
0.0
0.0
Kick
Late hit
0
0
9%
1
0
100
120
4.6872
7
3.906
0.0
0.0
Kick
1
0
9%
1
0
100
120
3.1248
7
0.0
0.0
0.0
Kick
| | |
| --- | --- |
| Clean hit | 9-12 |
| Late hit | 13-20 |
| Animation length | 54 |