Donkey Kong (SSBM)/Up smash
From SmashWiki, the Super Smash Bros. wiki
Jump to navigation
Jump to search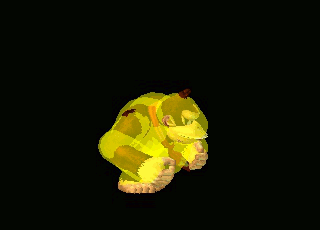 This article or section may require competitive expertise.
You can discuss this issue on the talk page or edit this page to improve it.
Overview
Donkey Kong does a clapping attack above his head. Quite a powerful up smash, comparable in strength to PAL Fox's up smash. Due to the high hitbox, it is very difficult to hit against grounded opponents. As a result, it is generally only usable when combo'd into, such as from up throw or down aerial. It can be used to hit through platforms, giving it some use as a platform tech chase tool. It also easily combos from up throw on Fox and Falco if they do no DI; if they DI away, you can instead do up special, giving Donkey Kong potent kill confirms.
Hitboxes
ID
Part
Damage

SD

Angle

BK

KS

FKV

Radius
Bone

Offset

Clang

Rebound

Effect

G

A

Sound
0
0

18%

4
40
93
0
6.8355
52
5.987898
0.0
0.0
Punch
1
0

18%

4
40
93
0
6.8355
30
5.987898
0.0
0.0
Punch
Timing
| | |
| --- | --- |
| Charges between | 7-8 |
| Intangibility | 12-16 (Head & Arms) |
| Hitboxes | 14-16 |
| Animation length | 53 |