Meta Knight (SSBB)/Up aerial
From SmashWiki, the Super Smash Bros. wiki
Jump to navigation
Jump to search
Overview
[
edit
]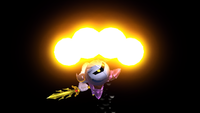 Meta Knight slashes above himself extremely quickly. If the jump button is held or pressed repeatedly while performing it multiple times, Meta Knight can rise in the air a certain distance while attacking. It has the shortest ending lag of any aerial in the game, and is one of the fastest attacks in the game. The attack's very low ending lag is part of what gives Meta Knight one of the strongest planking capabilities in the game (using two up aerials and regrabbing the ledge in the shortest time possible provides only 2 frames of vulnerability). It is fast enough to be performed three times in one short hop. Like most of Meta Knight's other moves, it has transcendent priority. Very useful for juggling, and is good for combos; at lower percentages, it can chain into itself easily and lead into other moves such as a neutral aerial. A well-known Meta Knight combo, known as the Rufio, is several rising up aerials followed by a Mach Tornado at the top of the screen, which will usually Star KO the opponent should they fail to escape; this is especially effective against floaty characters, and is able to rack up as much as 50% damage. Due to its extremely short startup and ending lag, large hitbox, combo ability, and rather strong knockback that can potentially KO near the top of the screen at very high percents, it is commonly considered to be the best aerial in all of Brawl and arguably the best aerial in the entire series.
Hitboxes
[
edit
]
ID
Part
Damage

SD

Angle

BK

KS

FKV

Radius
Bone

Offset

SDIx

H×

T%

Clang

Rebound

Type
Effect

G

A

Sound
Direct
0
0
6%
0
40
125
0
5.5
0
0.0
17.0
-6.4
1.0x
1.0x
0%
Slash
1
0
6%
0
40
125
0
5.5
0
0.0
17.0
1.6
1.0x
1.0x
0%
Slash
2
0
6%
0
40
125
0
5.0
0
0.0
14.0
-12.8
1.0x
1.0x
0%
Slash
3
0
6%
0
40
125
0
5.0
0
0.0
14.0
8.0
1.0x
1.0x
0%
Slash
| | |
| --- | --- |
| Initial autocancel | 1 |
| Hitbox | 2-3 |
| Interruptible | 14 |
| Ending autocancel | 21- |
| Animation length | 23 |
Landing lag
[
edit
]
This is the only aerial in the game which can be interrupted before it is auto-cancellable (although PK Fire also shares this trait when used in the air). While this is a negative trait in theory, the player can input an air dodge and replace the attack's landing lag with the much shorter air dodge landing lag (the player can also use the initial auto-cancel window of Meta Knight's back aerial to achieve the same effect). As this is effectively inputting shield to shorten landing lag, it has been said that Meta Knight is capable of L-cancelling in Brawl, jokingly reinforcing his supposed broken-ness.
This is one of the fastest aerial in the entire series both in terms of startup and ending lag. The only other aerials which compete with it in terms of startup are Mario and Luigi's up aerials in Smash 64 and Little Mac's neutral aerial in later entries. The only aerial which surpasses it in terms of total duration is Steve's up aerial with a gold axe (other variants have the same total duration as Meta Knight's).