Lucas (SSBU)/Down aerial
From SmashWiki, the Super Smash Bros. wiki
Jump to navigation
Jump to search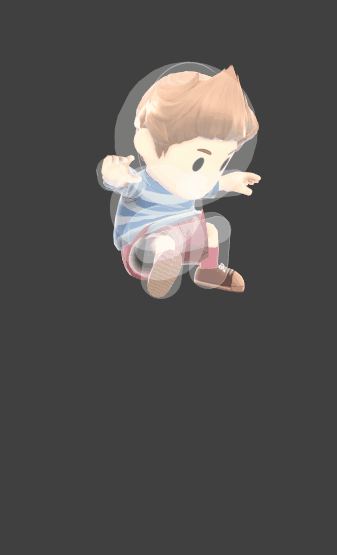 Overview
[
edit
]
Lucas performs 4 PSI-infused foot pokes downwards. The move's final hit is a moderately powerful meteor smash. Its decently-sized hitboxes and high duration make the move useful to use off stage. Combined with the disjoint of the move, this makes it reliable at catching a number or characters during their recovery. Down aerial is also able to drag grounded opponents off stage thanks to its autolink angle. Thanks to changes to grounded meteor smashes, down aerial can also start combos reliably and even link into itself multiple times as detailed below.
D-air Loops
[
edit
]
D-air Loops is a technique that can be performed by chaining together Lucas's down aerial on grounded opponents and when performed properly, will provide high damage output, lead to kill confirms (such as his Forward Smash, Forward Aerial, and Up Aerial depending on the percentage), and cannot be SDI'ed out of. It can be performed on the majority of the cast.
How to perform
[
edit
]
Opponents will need to be around mid-high percentages (this is dependent on a character's weight) and the terrain needs to be flat for this technique to work. Repeatedly short hop d-air while moving left or right to follow opponents.
Update History
[
edit
]
Down aerial has gained the electric effect.

This means Yellow Pikmin are now invulnerable to the move.
Hitboxes
[
edit
]
ID
Part

Rehit rate

Damage

SD

Angle

Angle type

BK

KS

FKV

Set weight

Radius
Bone

Offset

H×

SDI×

T%

Clang

Rebound

Effect
Type

G

A

Sound
Direct

Hit bits

Hit part

Blockable
Reflectable
Absorbable
Flinchless

No GFX

Heedless

Hits 1-3
0
0
0
3.5%
0

Standard

42
10
0
4.2
top
0.0
-4.0
0.3
0.66×
1.0×
0%
Magic
All
All
1
0
0
3.5%
0

Standard

0
100
20
3.2
top
0.0
1.0
0.3
0.66×
1.0×
0%
Magic
All
All
Hit 4
0
0
0
5.0%
0

Standard

10
110
0
5.5
top
0.0
-4.0
0.3
0.66×
1.0×
0%
Magic
All
All
1
0
0
5.0%
0

Forward

10
130
0
3.5
top
0.0
1.0
0.3
0.66×
1.0×
0%
Magic
All
All
| | |
| --- | --- |
| Hits 1-3 | 10-12, 18-20, 26-28 |
| Hit 4 | 34-35 |
| Ending autocancel | 47- |
| Interruptible | 57 |
| Animation length | 60 |
Landing lag
[
edit
]
| | |
| --- | --- |
| Interruptible | 17 |
| Animation length | 26 |