Fox (SSB)/Up smash
From SmashWiki, the Super Smash Bros. wiki
Jump to navigation
Jump to search
Overview
[
edit
]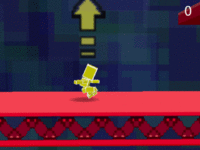 Fox does a fairly quick flip kick, dealing 16% damage and great vertical knockback during its first few frames, being able to KO Mario on Dream Land at 76% (assuming he's on the ground) and generally KOing every character at ground level sans Donkey Kong under 100% if the move is not stale. The move is one of Fox's best finishers, along with his up aerial, due to its high vertical KOing power, very quick startup lag (coming out on frame 6), and decent range. Fox also has multiple ways to combo into up smash such as with a Z-cancelled down aerial or with the first hit of his jab for a kill confirm. The move also grants intangibility to Fox's head during the first 9 frames.
The move does have some negative traits however. The move has high ending lag making it punishable on shield or on whiff and it also means that the move cannot reliably start combos. The move also has a drastically weaker late hit which only deals 8% and very low horizontal knockback making the late hit very punishable even on hit.
Overall, his up smash is among the most feared up smashes in any Super Smash Bros. game due to its very high power which would later be reduced in subsequent entries in the series.
Hitboxes
[
edit
]
ID
Part
Damage

SD

Angle

BK

KS

FKV

Radius
Bone

Offset

Clang
Effect

G

A

Sound
Clean
0
0
16%
0
25
140
0
100
25
0
0
0
Kick
1
0
16%
0
25
140
0
140
25
70
0
0
Kick
Late
0
0
8%
0
10
100
0
100
25
0
0
0
Kick
1
0
8%
0
10
100
0
115
25
70
0
0
Kick
| | |
| --- | --- |
| Head intangible | 1-9 |
| Clean hit | 6-9 |
| Late hit | 10-21 |
| Animation length | 59 |