Falco (SSBM)/Down special
From SmashWiki, the Super Smash Bros. wiki
Jump to navigation
Jump to search
Overview
[
edit
]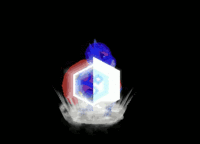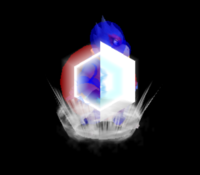 Widely considered Falco's principal move, Falco's Reflector (informally known as a shine) is the crux of his entire metagame and is among his greatest strengths as a character. The potency of the shine is attributed to two things. One, the initial hit of shine comes out without any delay (on frame 1) and two, it can be jump canceled 2 frames after the initial hit. This allows Falco hit an opponent and then leave the shine extremely early either by jumping out right away or wavedashing out of it (called waveshining). Falco's shine sends opponents diagonally upward, setting up aerial follow ups perfectly, most notably his down aerial, which directly combos back into the shine. This potentially endless cycle of shines and down airs is known as pillaring and is the central engine of all of Falco's combos. The basic form of pillaring can be expanded on by including up tilts, neutral aerials and back aerials in between shines and down aerials for devastating effect.
The uses of shine are not just limited to comboing however. With its instant startup on frame 1, the shine can be used as a substitute to the shield when facing a slow, powerful move. The shine can also be done out of shield allowing Falco to change the tide of the match to his favor. The fact that the shine can be jump canceled allows Falco to continue chaining multiple shines into each other (either by jump canceling directly into a new shine or waveshining back and forth) should the first shine be shielded.
Falco's shine can reflect projectiles with 1.5 times the original damage (not knockback however). Despite this, many competitive players will not opt to use shine for this purpose and instead attempt to powershield projectiles, as powershielding projectiles is faster, less punishable, and easier to follow up on; powershield frames become active on frame 1 of the shield (reflection takes place on frame 4 as detailed below), and furthermore upon reflecting something with the shine, Falco will experience hitlag than he cannot jump out of (and consequently cannot waveshine out of), negating any sort of follow up ability off reflection and potentially allowing opponents to punish Falco for shining projectiles.
The only flaw with the Reflector is that it will shatter if it bounces back the same projectile too many times due to an upper limit to how much base damage the reflected projectile should have before making contact with the Reflector. When this happens, Falco will go through the stun animation and be completely vulnerable to attack.
Hitboxes
[
edit
]
ID
Part
Damage

SD

Angle

BK

KS

FKV

Radius
Bone

Offset

Clang

Rebound

Effect

G

A

Sound
0
0
8%
0
110
50
0
5.999616
3
0.0
0.0
0.0
Burn
Minimum duration
[
edit
]
| | |
| --- | --- |
| Hitbox | 1 |
| Intangible | 1 |
| Reflects | 4-21 |
| Jump-cancellable | 4-21 |
| Turnaround possible | 4-21 |
| Animation length | 39 |
In general
[
edit
]
| | |
| --- | --- |
| Hitbox | 1 |
| Intangible | 1 |
| Reflects | 4-[release+1] |
| Jump-cancellable | 4-[release+1] |
| Turnaround possible | 4-[release+1] |
| Animation length | [release+19] |
Turning around disables jump-canceling for 3 frames. These frames will always reflect, regardless of release time. If the reflect window was increased that way, the ending lag will also increase by the same amount.
Properties
[
edit
]
| | |
| --- | --- |
| Reflection radius | 8.5 |
| Reflection damage | 1.5x |
| Reflection speed | 1.0x |
| Max reflectable damage | 50 |
| Reflection lag | 20 |
Similar moves
[
edit
]