Falco (SSBB)/Down special
From SmashWiki, the Super Smash Bros. wiki
Jump to navigation
Jump to search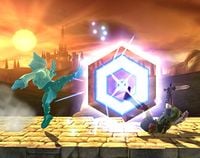 Overview
[
edit
]
Falco kicks out his Reflector, which returns back to him. The reflector hitbox comes out frame 1 and lasts for the move's entire animation, while the actual attacking hitbox comes out a bit later, at frame 4, and also has a small hitbox in comparison to the effect. When it returns to Falco, it has no hitbox. Falco is also mostly able to move during the animation whilst airborne. The move was drastically changed from its Melee counterpart and outside of its reflection properties and its horizontal range, it is drastically inferior in almost every way being weaker, much laggier (especially since it can no longer be jump cancelled), much more punishable and generally being far more situation as a whole.
As a reflector, it has great range and while Falco cannot hold it out, the reflector lasts for the entire animation, making it easy for Falco to reflect projectiles with it. This property also means that once Falco's reflector has finished, he can throw it out again, essentially meaning that Falco can have an infinitely lasting reflector. The range can make reflected projectiles harder to react to, and it is on par with most other reflectors with similar strength.
As an attack, it has very weak knockback, barely being able to KO just below 999%. The low knockback allows the move to be used as a locking tool, it has a decent trip chance and can be used in edgeguarding due to the disjoint and low knockback being able to send the opponent slightly downwards whilst in hitstun. It is very unsafe on hit at lower percents and very close ranges (especially if it does not trip), due to its weak knockback and very high ending lag, making it strictly a spacing tool outside of situations where it can reflect projectiles.
Hitboxes
[
edit
]
ID
Part

Rehit rate

Damage

SD

Angle

BK

KS

FKV

Radius
Bone

Offset

SDIx

H×

T%

Clang

Rebound

Type
Effect

G

A

Sound
Direct
Blockable
Reflectable
Absorbable
Flinchless

Heedless

Piercing

Strechy

?2

?5

?6

?11

Hit Bits

3
0
0
6%
5

f2!

35
30
0
3.0
18
1.5
0.0
0.0
0.0x
0.5x
40%

no flags 1 data specified

no flags 2 data specified
| | |
| --- | --- |
| Reflection | 1-51 |
| Hitboxes | 4-13 |
| Animation length | 51 |
Properties
[
edit
]
| | |
| --- | --- |
| Reflection radius | 9 |
| Reflection x position | 1.0 |
| Reflection y position | -1.2 |
| Reflection damage | 1.5x |
| Reflection speed | 1.0x |
| Reflection duration | 0.5x |
| Max reflectable damage | 50 |