Falco (SSBB)/Neutral special
From SmashWiki, the Super Smash Bros. wiki
Jump to navigation
Jump to search
Overview
[
edit
]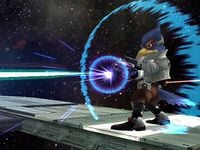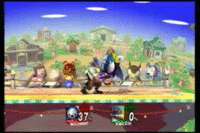 Falco's neutral special move is known as Blaster. Compared to Fox's Blaster, it is slower, but causes the opponent to flinch. Because of this, Falco's lasers are extremely useful for disrupting approaches and camping from opponents. The move is rather slow on the ground, having high ending lag although Falco can easily remedy this by using the move in the air. The aerial version is faster overall and it auto-cancels on landing, making it very safe to use out of a short hop. Falco can easily shoot two lasers in a short hop from varying heights. This allows the move to be used constantly whilst not leaving Falco punishable. Lasers greatly help Falco's neutral game because when used properly, they can cover several of the opponent's options and force them into bad positions, or even bait out a mistimed reaction for Falco to punish. If Falco shoots his lasers the same frame that he lands, he will shoot the laser but it won't make a sound. This is known as a silent laser. Silent lasers are useful as they are shot low to the ground and as the opponent cannot hear them, they will not be able to react to them as quickly. As a result of these traits, lasers are extremely useful as Falco can safely and easily build up damage on his opponent from a distance while they struggle to approach him.
If Falco has the opportunity to safely punish the opponent after hitting them with a laser, he can followup with a grab, a dash attack (which can then potentially lead into a gatling combo) or at greater distances, a DACUS. If the laser hits an opponent from a missed tech, it will lock the opponent and Falco will be able to continuously shoot lasers (regardless of how far away they are) until his opponent reaches the edge (known as a laser lock), where he can then punish his opponent with a DACUS. The laser lock is very powerful, although Falco does not have many reliable ways to set it up, so it is situational overall.
Overall, Falco's lasers are one of his most defining tools, as well as one of the best projectiles in the game due to how easily they can be spammed safely.
Hitboxes
[
edit
]
ID
Part

Rehit rate

Damage

SD

Angle

BK

KS

FKV

Radius
Bone

Offset

SDIx

H×

T%

Clang

Rebound

Type
Effect

G

A

Sound
Direct
Blockable
Reflectable
Absorbable
Flinchless

Heedless

Piercing

Strechy

?2

?5

?6

?11

Hit Bits

0
0
0
3%
0

Forwards

0
100
3
1.44
0
0.0
0.0
0.8
1.0x
0.1x
0%
Punch
11111111111111
1
0
0
3%
0

Forwards

0
100
3
1.44
0
0.0
0.0
3.7
1.0x
0.1x
0%
Punch
11111111111111
2
0
0
3%
0

Forwards

0
100
3
1.44
0
0.0
0.0
6.6
1.0x
0.1x
0%
Punch
11111111111111
3
0
0
3%
0

Forwards

0
100
3
1.44
0
0.0
0.0
9.5
1.0x
0.1x
0%
Punch
11111111111111
| | |
| --- | --- |
| First loop frame | 7 |
| Repeat window | 8-16 |
| Shot | 12-110 |
| Last loop frame | 30 |
| Animation length | 56 |
| | |
| --- | --- |
| First loop frame | 5 |
| Repeat window | 6-14 |
| Shot | 10-108 |
| Last loop frame | 20 |
| Animation length | 41 |
Similar Moves
[
edit
]