Palutena (SSBU)/Neutral aerial
From SmashWiki, the Super Smash Bros. wiki
Jump to navigation
Jump to search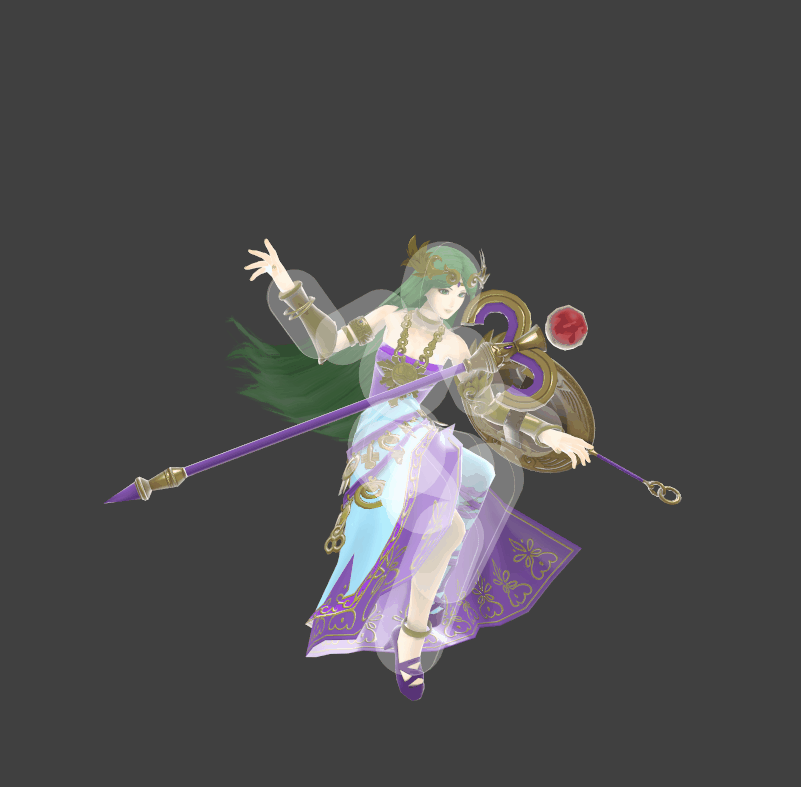 Overview
[
edit
]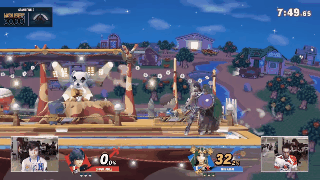 Also known as Omnidirectional Circle (四方の環), Palutena telekinetically spins her staff while it is adjacent to her right arm. It has the lowest amount of startup lag in her moveset, coming out on frame 5.
Being one of her combo starters, it is notorious for its ability to effectively combo into itself and into other aerials, being capable of comboing into itself at low percentages until four times and its importance to Palutena's gameplan thanks to its low ending and landing lag, making it very spammable.
It also can easily set up as an edge-guard when fast fallen, and due to its high knockback scaling, it has enough knockback to KO middleweights at around 150% on the edge of Final Destination. All of these traits combined make it one of her best moves and is arguably one of the best moves in the game due to its effectiveness. Auto-cancels in a full hop.
Update History
[
edit
]
Reduced hitlag on neutral air, allowing it to execute faster.
Neutral aerial's last hit deals less knockback (30 base/180 scaling → 35/155). While this slightly improves its combo potential at low percents, it more drastically hinders its KO potential at high percents.
Neutral aerial's last hit has a smaller hitbox against aerial opponents (11.5u → 9.8u).
Neutral aerial's penultimate hit inflicts 13 less frames of hitstun, worsening the move's drag-down setups and removing its infinites against certain opponents on platforms (such as Ridley).
Hitboxes
[
edit
]
For the late multihits, the scripts only specify hitstun modifiers for the ID 0 and 1 hitboxes, but due to a glitch, they also apply to the ID 2 and 3 hitboxes.
ID
Part

Rehit rate

Damage

SD

Angle

Angle type

BK

KS

FKV

Set weight

Radius
Bone

Offset

H×

SDI×

T%

Clang

Rebound

Effect
Type

G

A

Sound
Direct

Hit bits

Hit part

Blockable
Reflectable
Absorbable
Flinchless

No GFX

Heedless

Hitstun
Multihits (early)
0
0
4
1.4%
1.0

Standard

0
100
0
4.2
stick
0.0
5.2
0.0
0.5×
0.3×
0%
Magic
All
All
—
1
0
4
1.4%
1.0

Standard

0
100
0
4.2
stick
0.0
-5.4
0.0
0.5×
0.3×
0%
Magic
All
All
—
2
0
4
1.4%
1.0

Standard

0
100
65
4.2
stick
0.0
5.2
0.0
0.5×
0.3×
0%
Magic
All
All
—
3
0
4
1.4%
1.0

Standard

0
100
80
4.2
stick
0.0
-5.4
0.0
0.5×
0.3×
0%
Magic
All
All
—
Multihits (mid)
0
0
4
1.4%
1.0

Standard

0
100
0
4.2
stick
0.0
5.2
0.0
0.5×
0.3×
0%
Magic
All
All
—
1
0
4
1.4%
1.0

Standard

0
100
0
4.2
stick
0.0
-5.4
0.0
0.5×
0.3×
0%
Magic
All
All
—
2
0
4
1.4%
1.0

Standard

0
100
65
4.2
stick
0.0
5.2
0.0
0.5×
0.3×
0%
Magic
All
All
—
3
0
4
1.4%
1.0

Standard

0
100
65
4.2
stick
0.0
-5.4
0.0
0.5×
0.3×
0%
Magic
All
All
—
Multihits (late)
0
0
4
1.4%
1.0

Standard

0
100
65
4.2
stick
0.0
5.2
0.0
0.5×
0.0×
0%
Magic
All
All
-13 frames
1
0
4
1.4%
1.0

Standard

0
100
65
4.2
stick
0.0
-5.4
0.0
0.5×
0.0×
0%
Magic
All
All
-13 frames
2
0
4
1.4%
1.0

Standard

0
100
65
4.2
stick
0.0
5.2
0.0
0.5×
0.3×
0%
Magic
All
All
—
3
0
4
1.4%
1.0

Standard

0
100
65
4.2
stick
0.0
-5.4
0.0
0.5×
0.3×
0%
Magic
All
All
—
Final hit
0
0
0
5.1%
3.0

Forward

35
155
0
9.8
stick
0.0
0.0
0.0
1.5×
1.0×
0%
Magic
All
All
—
1
0
0
5.1%
3.0

Forward

35
155
0
11.5
stick
0.0
0.0
0.0
1.5×
1.0×
0%
Magic
All
All
—
| | |
| --- | --- |
| Initial autocancel | 1-3 |
| Multihits | 5-6, 7-23, 24-27 (rehit rate: 4) |
| Final hit | 29-30 |
| Ending autocancel | 40- |
| Interruptible | 52 |
| Animation length | 64 |
Landing lag
[
edit
]
| | |
| --- | --- |
| Interruptible | 13 |
| Animation length | 19 |
| | | | |
| --- | --- | --- | --- |
| | | | Palutena's moveset |