Mr. Game & Watch (SSBU)/Forward aerial
From SmashWiki, the Super Smash Bros. wiki
Jump to navigation
Jump to search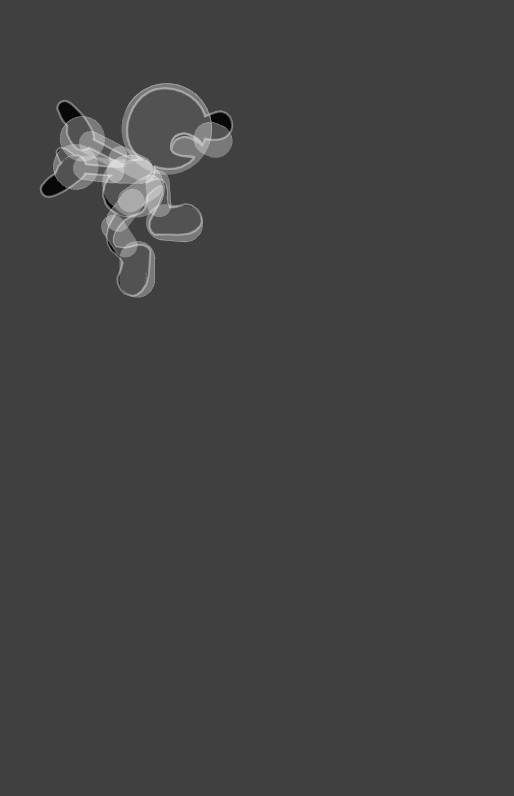 Overview
[
edit
]
Mr. Game & Watch drops a bomb in front of him, which will then slowly descend before exploding shortly after. The move has several unorthodox properties for a forward aerial: The first hit deals 3% damage and has fixed minimal knockback, rendering it unable to KO at any percentage, and will only combo into the second hit at a low enough height. After the first hit, the bomb then functions as a projectile, which will either explode after 30 frames or explode before that by colliding with a platform. This explosion deals 12% damage. During the 30 frames it takes for it to explode, the bomb has a hurtbox which will cause it to disappear if it gets hit by any opponent's attack.
Forward aerial's unique attributes lead it to a plethora of uses. Because the bomb's explosion is delayed, catching an opponent with it can lead to several follow-ups at low to mid percents, such as neutral aerial, grab, up tilt and, in the case that it takes it the full 30 frames to go off, even slower attacks like up smash. This can lead to very high-damaging combos, some of which can deal as much as 60% damage in total. The delayed explosion can even lead to situations where the move is safe or outright positive on block against an opponent's shield; depending on when the bomb went off. Doing so can potentially guarantee Mr. Game & Watch grabs against shielding opponents.
It is also useful for edgeguarding in some instances: Since the bomb lingers and can go below ledges, it is effective for catching opponents that are either below the stage or ledge hanging. To add to this, the move possesses fairly strong KO potential and has high knockback scaling, allowing the move to KO from anywhere on the stage at high enough percents. Lastly, the move is a strong defensive tool, allowing Mr. Game & Watch to wall opponents effectively with a continuous string of bombs while also retreating back, making it useful for calling out opponents' approaches while providing Mr. Game & Watch with a safety net.
For all of its strengths, it possesses notable drawbacks. As stated earlier, during the 30 frames it takes to explode, the bomb is completely vulnerable and will disappear from even the weakest of attacks from the opponent. Combined with the first hit's abysmal range, this makes the move hard to approach opponents with directly without using it as a mix-up option between his other approaching options. Furthermore, the first hit's poor range also prevents Mr. Game & Watch from providing immediate frontal pressure, resulting in him losing almost, if not, all trades with the opponent in the case that the opponent is attacking Mr. Game & Watch. Lastly, the move possesses high landing lag and cannot auto-cancel in a short hop, which can lead to the opponent punishing Mr. Game & Watch if the explosion doesn't catch them.
Because of its unusual traits, forward aerial functions more as a defensive/mix-up tool than a direct approach option and is one of the most difficult - but versatile - moves to master in Mr. Game & Watch's kit.
Update History
[
edit
]
Forward aerial's explosion hitbox has increased range, matching the visual explosion more closely and allowing the move to catch opponents from below the ledge. This improves its edgeguarding potential.
Hitboxes
[
edit
]
ID
Part

Rehit rate

Damage

SD

Angle

Angle type

BK

KS

FKV

Set weight

Radius
Bone

Offset

H×

SDI×

T%

Clang

Rebound

Effect
Type

G

A

Sound
Direct

Hit bits

Hit part

Blockable
Reflectable
Absorbable
Flinchless

No GFX

Heedless

Hitstun
G&W Hitbox
0
0
0
3.0%
0

Forward

0
50
30
2.0
top
0.0
9.0
11.3
0.5×
1.0×
0%
Punch
All
All
+5 frames
Bomb detection
0
0
0
0.0%
0

Standard

0
0
0
3.0
top
0.0
0.4
0.0
0.0×
1.0×
0%
None
All
All
—
Explosion
0
0
0
12.0%
0

Forward

30
101
0
10.0
top
0.0
0.0
0.0
1.0×
1.0×
0%
Bomb
All
All
—
| | |
| --- | --- |
| Hitbox | 10-13 |
| Bomb hurtbox and detection | 14-43 |
| Bomb explosion (if left alone) | 44-45 |
| Ending autocancel | 42- |
| Interruptible | 48 |
| Animation length | 49 |
Landing lag
[
edit
]
| | |
| --- | --- |
| Interruptible | 18 |
| Animation length | 27 |
Bomb parameters
[
edit
]
| | |
| --- | --- |
| Offsets | [3.5, 4, 0] |
| Lifetime | 30 frames |
| Period before moving | 1 frame |
| Falling speed | 1.2 |
| Size multiplier | 1.05 |
| | | | | | |
| --- | --- | --- | --- | --- | --- |
| | | | | | Mr. Game & Watch's moveset |