Jigglypuff (SSBM)/Down special
From SmashWiki, the Super Smash Bros. wiki
Jump to navigation
Jump to search
Overview
[
edit
]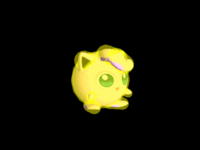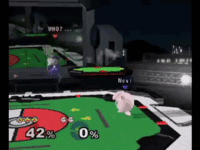 The epitome of high-risk high-reward moves, Rest puts Jigglypuff to sleep upon activation. On the first frame and only the first frame of the move, there is a tiny hitbox (about the size of its eye) in the center of its body, which does incredible damage and extreme knockback, KOing reliably at percentages as low as 25%. This makes it one of the most powerful moves in the game; surprisingly, such power does not sacrifice versatility unlike other moves of its caliber, as it can be comboed into with a variety of moves, such as an up throw, up tilt, or up aerial. Against fastfallers such as Fox, Falco, and Captain Falcon, an up throw can combo into Rest easily, especially at low percentages; at medium to high percentages, an up aerial can be used to ensure that the Rest lands. This is called the space animal slayer (also known as the "Hunger Strike," named after the professional Jigglypuff player Hungrybox). A variant of this technique involves using platforms to help land the Rest; an up throw can be used to get an opponent on top of a platform and Rest can be used after that to punish their tech option. Up aerials can be used to cause the opponent to miss their tech, making landing the Rest even easier. Rest is also an extremely potent followup to a jab reset, which is often set up using a combination of back aerials, up aerials, and Pound. Other less reliable moves that can knock the opponent down to set it up include strong neutral aerial at moderate percentages (especially if autocancelled), and a down throw on fastfallers at low percentages.
With all its power and ability to make any player think twice about some things, Rest has by far the most ending lag of any move in the game, leaving Jigglypuff utterly vulnerable and helpless for 223 frames (about 3.7 seconds). If the move doesn't hit the opponent during its single frame of damage, virtually any opponent will be able to set up a punish such as a fully-changed smash attack or other power move that is otherwise too slow to connect; in fact, even if the opponent is hit, they can DI to attempt to be KO'd sideways in order to respawn fast enough to punish regardless. The move's extreme lag also makes it a guaranteed self-destruct if used with no ground below and no teammates are around to slap Jigglypuff awake; as a result successfully connecting with a midair Rest is considered flashy, especially if it ends a match.
Rest includes 26 frames of intangibility at the start of the move. However, it is never worth using the move for the purpose of dodging an attack, and in fact hurts Jigglypuff by preventing it from being hit and woken up too early.
Hitboxes
[
edit
]
ID
Part
Damage

SD

Angle

BK

KS

FKV

Radius
Bone

Offset

Clang

Rebound

Effect

G

A

Sound
0
0
28%
0
78
120
0
1.953
5
0.0
0.0
0.0
Bat
| | |
| --- | --- |
| Hitbox | 1 |
| Intangible | 1-26 |
| Animation length | 249 |