Diddy Kong (SSBU)/Dash attack
From SmashWiki, the Super Smash Bros. wiki
Jump to navigation
Jump to search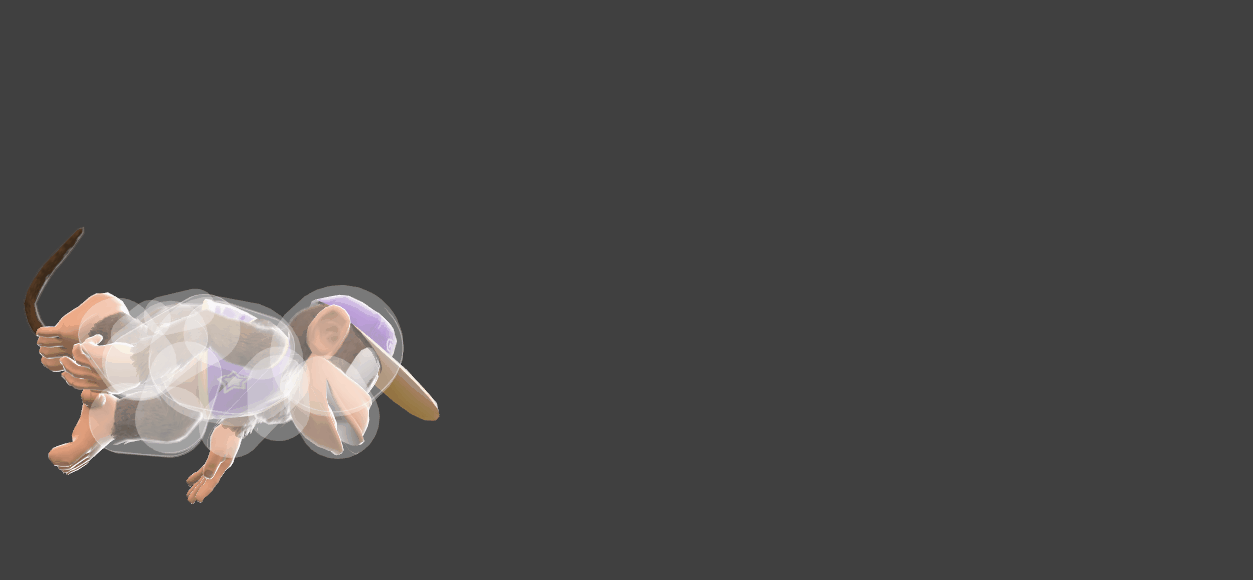 Overview
[
edit
]
Update History
[
edit
]
Dash attack has less startup lag (frame 9/18/24 → 8/16/22) with identical ending lag, shortening its duration (FAF 43 → 41).
Dash attack's final hit sends at a slightly more vertical angle (78° → 83°).
The second hit has more consistent set knockback (55/40/70 → 45/45/70), allowing it to link more reliably into the third hit.
The third hit has a larger hitbox (4.5u → 5.5u).
Hitboxes
[
edit
]
ID
Part

Rehit rate

Damage

SD

Angle

Angle type

BK

KS

FKV

Set weight

Radius
Bone

Offset

H×

SDI×

T%

Clang

Rebound

Effect
Type

G

A

Sound
Direct

Hit bits

Hit part

Blockable
Reflectable
Absorbable
Flinchless

No GFX

Heedless

Hit 1
0
0
0
2.0%
0

Forward

0
100
60
3.5
top
0.0
11.0 to 9.5
8.5 to 7.5
0.5×
1.0×
0%
Punch
All
All
1
0
0
2.0%
0

Forward

0
100
45
3.5
top
0.0
11.0 to 9.5
8.5 to 7.5
0.5×
1.0×
0%
Punch
All
All
2
0
0
2.0%
0

Forward

0
100
60
3.5
top
0.0
5.5
7.5
0.5×
1.0×
0%
Punch
All
All
Hit 2
0
0
0
2.0%
0

Forward

0
100
45
4.0
top
0.0
11.5 to 10.0
8.0 to 7.0
0.8×
1.0×
0%
Punch
All
All
1
0
0
2.0%
0

Forward

0
100
45
4.0
top
0.0
11.5 to 10.0
8.0 to 7.0
0.8×
1.0×
0%
Punch
All
All
2
0
0
2.0%
0

Forward

0
100
70
4.0
top
0.0
6.5
7.0
0.8×
1.0×
0%
Punch
All
All
Hit 3
0
0
0
3.0%
0

Forward

80
90
0
5.5
top
0.0
11.0 to 6.0
8.0
1.0×
1.0×
0%
Punch
All
All
| | |
| --- | --- |
| Hit 1 | 8-9 |
| Hit 2 | 16-17 |
| Hit 3 | 22-23 |
| Interruptible | 41 |
| Animation length | 55 |