Corrin (SSBU)/Forward smash
From SmashWiki, the Super Smash Bros. wiki
Jump to navigation
Jump to search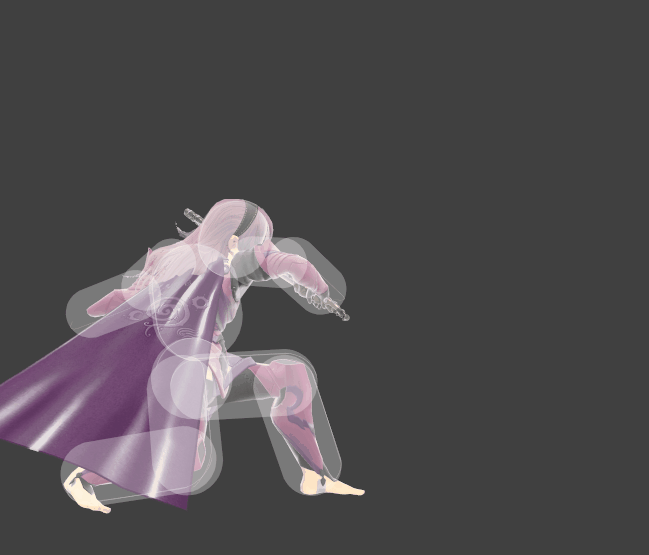 Overview
[
edit
]
Update History
[
edit
]
Forward smash's looping hits connect more reliably into its spear hitbox.
Forward smash has more base knockback (35 → 40 (base and middle), 45 (tip)).
The tipper deals more damage (15.2% → 16.7%) with no compensation on knockback, improving its KO potential.
The tipper has gained a shieldstun multiplier of 1.6×, making it harder to punish.
The tipper consists of two hitboxes instead of one, which cover a wider area (Y offset: 0u → -0.4u/0.4u, Z offset: 0u → 0.4u/-0.4u), making it less likely to whiff due to the z-axis.
Hitboxes
[
edit
]
The spear, while attached to Corrin and causing him to experience hitlag alongside opponents hit, is programmed as its own object. This gives the hitboxes some unusual properties; they can clang with aerial attacks (akin to projectiles), and when shielded, the 0.67× hitlag reduction only applies to the opponent and not Corrin, making it comparatively less safe than other attacks (though this is partially compensated by its shieldstun multiplier).

These properties do not apply to the charging hits, which are standard physical hitboxes.

For the spear, the scripts only specify shieldstun multipliers for the ID 2 and 3 hitboxes, but they also apply to the ID 0 and 1 hitboxes due to a glitch.
ID
Part

Rehit rate

Damage

SD

Angle

Angle type

BK

KS

FKV

Set weight

Radius
Bone

Offset

H×

SDI×

T%

Clang

Rebound

Effect
Type

G

A

Sound
Direct

Hit bits

Hit part

Blockable
Reflectable
Absorbable
Flinchless

No GFX

Heedless

Hitstun
Shieldstun
Charging
0
0
5
0.5%
0

Forward

20
1
0
3.5
haver
0.0
0.0 to 6.0
0.0
1.1×
1.5×
0%
Slash
All
All
+3 frames
—
Forward smash
0
0
0

12.0%

0

Forward

40
103
0
2.0
drag6
-8.0 to 3.0
0.0
0.0
1.0×
1.0×
0%
Slash
All
All
—
—
1
0
0

11.0%

0

Forward

40
103
0
1.7
drag7
-5.0 to 2.5
0.0
0.0
0.8×
1.0×
0%
Slash
All
All
—
—
2
0
0

16.7%

0

Forward

45
107
0
1.1
drag8
-12.5 to -0.5
-0.4
0.4
1.5×
1.0×
0%
Slash
All
All
—
1.6×
3
0
0

16.7%

0

Forward

45
107
0
1.1
drag8
-12.5 to -0.5
0.4
-0.4
1.5×
1.0×
0%
Slash
All
All
—
1.6×
| | |
| --- | --- |
| Charges between | 8-9 |
| Hitboxes | 17-18 |
| Interruptible | 57 |
| Animation length | 75 |
| | | | |
| --- | --- | --- | --- |
| | | | Corrin's moveset |