Corrin (SSBU)/Forward aerial
From SmashWiki, the Super Smash Bros. wiki
Jump to navigation
Jump to search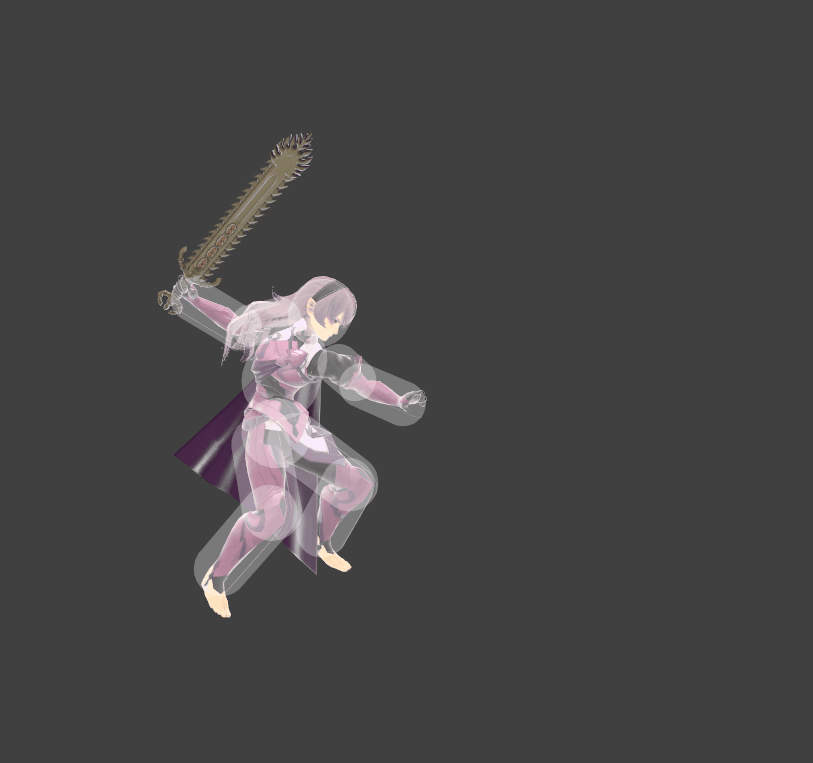 Overview
[
edit
]
Corrin performs a simple, downward sword swing. This move is a staple in Corrin's neutral, with incredible range and shield safety. Given the low FAF, it can also be used multiple times in a single jump. The high active frames also make it deceptively easy to land, and the hitbox range is exceptional. As a result, it can be seen as a premier forward aerial.
Forward aerial is very plus on hit, allowing it to combo in multiple different ways. When used with a SHFF at 0%, it can confirm options such as Dragon Lunge, enabling its host of mixups or a forward kick. However, rising with the move enables forward aerial chains, which can lead into Corrin's exceptional juggle game. These can often lead to ~50% combos.
However, its startup being frame 9 is slightly below average for an aerial of its nature. Using the move multiple times in a jump can leave Corrin vulnerable due to the noticeable endlag on a rising forward aerial. Corrin's air speed also holds back the move's range. It is also very poor for edgeguarding due to being designed for juggle combos, with the upward launch and poor KO potential helping opponents if anything. Back aerial is usually used instead in this case. These issues are, however, extremely minor and do little to hurt the move's success.
Update History
[
edit
]
Corrin can grab ledges faster after using forward aerial (62 frames → 60).
Forward aerial deals more damage (7.5% → 9%), with knockback scaling compensated (99 → 87).
Hitboxes
[
edit
]
ID
Part

Rehit rate

Damage

SD

Angle

Angle type

BK

KS

FKV

Set weight

Radius
Bone

Offset

H×

SDI×

T%

Clang

Rebound

Effect
Type

G

A

Sound
Direct

Hit bits

Hit part

Blockable
Reflectable
Absorbable
Flinchless

No GFX

Heedless

0
0
0
9.0%
0

Forward

40
87
0
4.0
haver
-1.0
0.0
0.0
1.0×
1.0×
0%
Slash
All
All
1
0
0
9.0%
0

Forward

40
87
0
4.0
haver
-1.0
4.0
0.0
1.0×
1.0×
0%
Slash
All
All
2
0
0
9.0%
0

Forward

40
87
0
4.0
haver
-1.0
8.0
0.0
1.0×
1.0×
0%
Slash
All
All
The move enables ledge grabs from both sides starting on frame 60.
| | |
| --- | --- |
| Initial autocancel | 1-8 |
| Hitboxes | 9-12 |
| Ending autocancel | 30- |
| Interruptible | 36 |
| Animation length | 60 |
Landing lag
[
edit
]
| | |
| --- | --- |
| Interruptible | 9 |
| Animation length | 16 |
| | | | |
| --- | --- | --- | --- |
| | | | Corrin's moveset |