Pikachu (SSBB)/Down throw
From SmashWiki, the Super Smash Bros. wiki
Jump to navigation
Jump to search
Overview
[
edit
]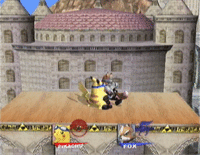 Pikachu slams on top of its opponent. Deals 10% damage, with pretty low vertical knockback. It can be followed up with an up tilt, up smash, or a neutral aerial if the opponent double jumps away. The throw is notable for being a highly effective chaingrab on certain characters. Many characters are able to escape after a few down throws by footstooling Pikachu, though it can 0-death Fox, as his extremely fast falling speed acceleration makes him unable to escape the down throws until extremely high percentages, while an up smash to Thunderspike can easily be used before this is possible. This can also be performed on Captain Falcon, Sheik, and Ganondorf by buffering the down throws. Additionally, a 0-death with buffered down throws to a Thunderspike can be used on Falco and Wolf, though a fresh down throw must be used at 20%. This is usually done using two forward throws→pummel→down throw. Lastly, Snake can be 0-deathed with buffered down throws, but the requirements are extremely strict - not only does it require a fresh down throw at 23%, but it must also be done on the edge of the stage. Normally, Snake can pull out a Hand Grenade in one frame to stop the chaingrab, but if done on the edge, the grenade will fall off the stage, harming neither Pikachu or Snake.
On some characters, Pikachu can perform a 0-death combo by using down throw, up tilt, footstool jump into Quick Attack lock (with QAC) repeatedly, then a jab lock repeatedly to the edge of the stage. A forward smash or Thunder can be used while the opponent is forced to get up to KO. This combo can be escaped with proper SDI.
Outside of chaingrabbing and the extremely advanced QAC lock followups, the throw is a rather useful combo move. At lower percentages, it can lead into an up tilt then aerials, and on many characters, it can lead into an up smash to Thunderspike at higher percentages.
Throw data
[
edit
]
ID
Part
Damage

SD

Angle

BK

KS

FKV

Radius
Bone

Offset

SDIx

H×

T%

Clang

Rebound

Type
Effect

G

A

Sound
Direct
0
0
5%
1
0
0
90
7.2
2
0.0
0.0
0.0
1.0x
1.0x
0%
Punch
ID
Damage
Angle

BK

KS

FKV

Bone

SDIx

FFx

T%

Type
Effect
Sound
0
5%

Forwards

60
38
0
0
1.0x

None

0%
None
1
3%

Forwards

40
100
0
0
1.0x

None

0%
None
| | |
| --- | --- |
| Invincibility | 1-8 |
| Hitboxes | 13-14 |
| Throw | 21 |
| Animation length | 43 |
Chaingrab details
[
edit
]
Source: [1]
Captain Falcon

19-105%+regrab
D-throw x 14→grab

Donkey Kong

7-26%+regrab
D-throw x 2→grab
Can escape any time with a footstool.

Falco

19-100%+regrab
D-throw x 13→grab

Fox

0-99%+regrab
D-throw x 17→grab

Ganondorf

0-85%+regrab
D-throw x 14→grab
First two regrabs are escapable with a footstool.

Ike

0-62%+regrab
D-throw x 9→grab
First four regrabs are escapable with a footstool.

Link

0-41%+regrab
D-throw x 5→grab
First four regrabs are escapable with a footstool.

Lucas

5-33%+regrab
D-throw x 3→grab
Can escape any time with a footstool.

Meta Knight

0-52%+regrab
D-throw x 7→grab
First three regrabs are escapable with a footstool.

Pikachu

0-27%+regrab
D-throw x 3→grab
Can escape any time with a footstool.

Sheik

19-105%+regrab
D-throw x 14→grab

Snake

27-80%+regrab
D-throw x 7→grab

Squirtle

3-22%+regrab
D-throw x 2→grab
Can escape any time with a footstool.

Wario

7-26%+regrab
D-throw x 2→grab
Can escape any time with a footstool.

Wolf

0-115%+regrab
D-throw x 3→pummel→d-throw x 14→grab
Followup data
[
edit
]
forward tilt angled up - 5 frames
Grab - 6 frames
down smash - 6 frames
Neutral aerial - 7 frames
Reverse up tilt - 8 frames
Up smash - 9 frames
Up tilt - 9 frames