Meta Knight (SSBU)/Back aerial
From SmashWiki, the Super Smash Bros. wiki
Jump to navigation
Jump to search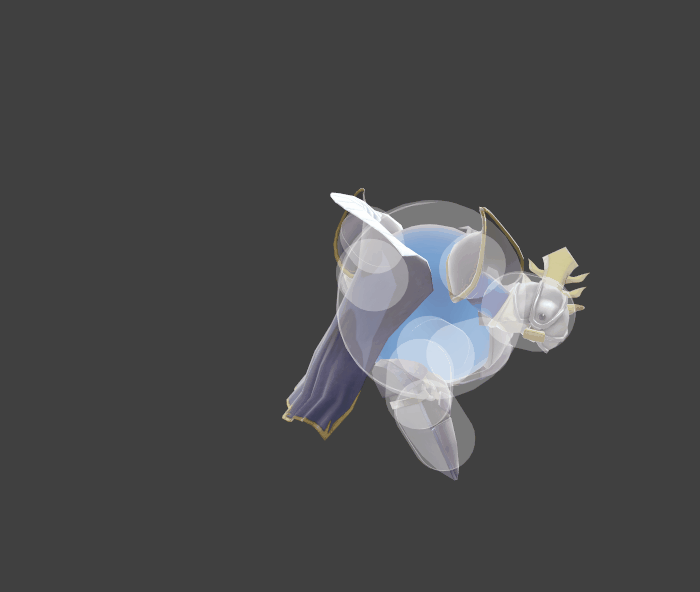 Overview
[
edit
]
Performs three backward slashes. Has low startup lag, but a noticeable amount of ending lag. Useful to edgeguard opponents as well as starting up combos effectively.
Update 8.0.0 improves the move by making the first two hits having weight-independent knockback. This allows it to connect more reliably. It also uses set knockback on grounded opponents. This improves its combo potential more effectively.
Update History
[
edit
]
Back aerial's first two hits have weight-independent knockback, and use set knockback against grounded opponents (50 base/90 scaling → 55 set/100 scaling). This allows them to both connect reliably into the third hit and start combos more effectively.
The first two hits of back aerial deal 0.5% more damage (1.5% → 2%).
Hitboxes
[
edit
]
ID
Part

Rehit rate

Damage

SD

Angle

Angle type

BK

KS

FKV

Set weight

Radius
Bone

Offset

H×

SDI×

T%

Clang

Rebound

Effect
Type

G

A

Sound
Direct

Hit bits

Hit part

Blockable
Reflectable
Absorbable
Flinchless

No GFX

Heedless

Hits 1-2
0
0
0
2.0%
0

Backward

0
100
90
4.2
top
0.0
4.5
-15.0
1.0×
1.0×
0%
Slash
All
All
1
0
0
2.0%
0

Backward

0
100
90
4.2
top
0.0
2.5 to 6.5
-9.0
1.0×
1.0×
0%
Slash
All
All
2
0
0
2.0%
0

Backward

0
100
55
4.2
top
0.0
4.5
-15.0
1.0×
1.0×
0%
Slash
All
All
3
0
0
2.0%
0

Backward

0
100
55
4.2
top
0.0
2.5 to 6.5
-9.0
1.0×
1.0×
0%
Slash
All
All
Hit 3
0
0
0
4.0%
0

Backward

30
198
0
5.2
top
0.0
7.0
-15.0
2.0×
1.0×
0%
Slash
All
All
1
0
0
4.0%
0

Backward

30
198
0
5.0
top
0.0
2.5 to 6.5
-9.0
2.0×
1.0×
0%
Slash
All
All
| | |
| --- | --- |
| Initial autocancel | 1-6 |
| Hits 1-2 | 7-8, 13-14 |
| Hit 3 | 20-21 |
| Ending autocancel | 40- |
| Interruptible | 52 |
| Animation length | 59 |
Landing lag
[
edit
]
| | |
| --- | --- |
| Interruptible | 12 |
| Animation length | 17 |