Cloud (SSBU)/Down throw
From SmashWiki, the Super Smash Bros. wiki
Jump to navigation
Jump to search
This article or section may require competitive expertise.
You can discuss this issue on the talk page or edit this page to improve it.
Cloud down throw hurtbox visualization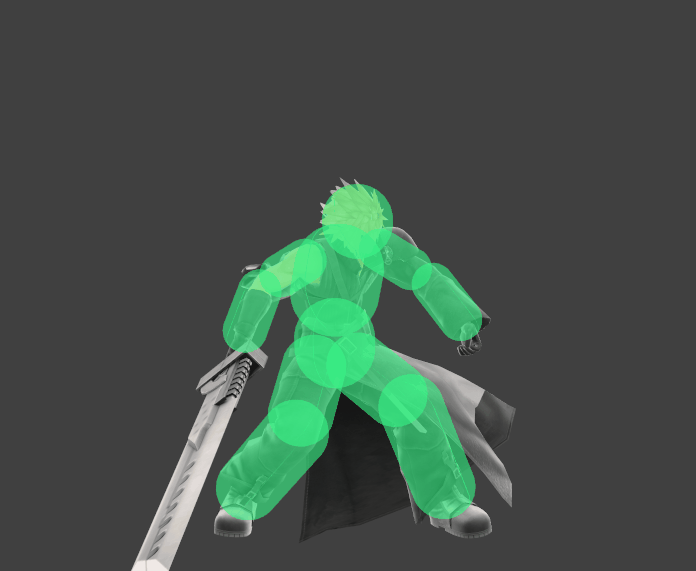 Overview
[
edit
]
Cloud slams the opponent onto the ground with one arm and launches opponents behind him. It is among the strongest down throws in the game and Cloud's strongest throw when he performs the throw while facing away from the ledge. However, It has low base knockback, making it a very ineffective throw for combos.
Cloud Down Throw KO%s on Battlefield VS Mario w/Optimal DI
Circumstance
Kill%
Stick angle
At the ledge
213.46%
214°
At the ledge (max rage)
185.7%
214°
Edge of Side Platform
215.74%
241°
Edge of Side Platform (max rage)
187.78%
241°
Edge of Top Platform
219.78%
289°
Edge of Top Platform (max rage)
191.44%
289°
Throw Data
[
edit
]
ID
Damage
Angle

BK

KS

FKV

FFx

Type
Effect
Sound
0
7.0%

Standard

40
110
0

None

None
During frame 17, the move inflicts 10 frames of hitlag to both Cloud and the opponent, during which the opponent is invincible. This section shows its timing without the hitlag.
| | |
| --- | --- |
| Invincibility | 1-18 |
| Throw Release | 18 |
| Interruptible | 44 |
| Animation length | 57 |
| | | | |
| --- | --- | --- | --- |
| | | | Cloud's moveset |