Pichu (SSBU)/Side special
From SmashWiki, the Super Smash Bros. wiki
Jump to navigation
Jump to search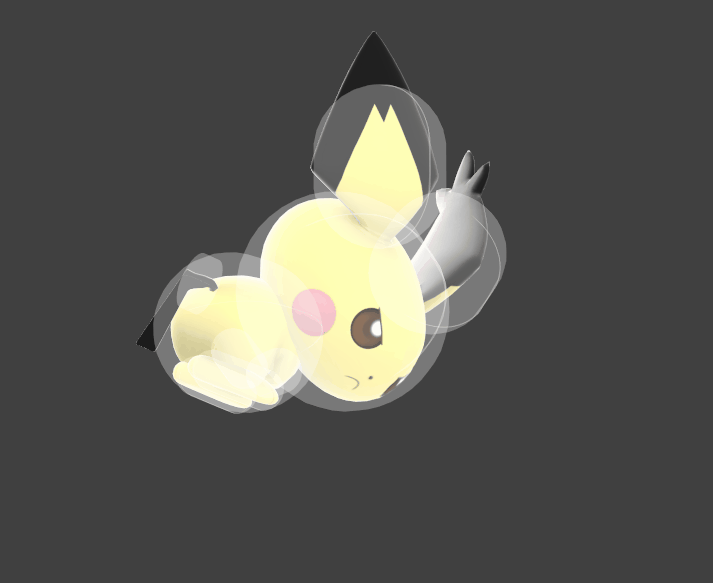 Overview
[
edit
]
Update History
[
edit
]
It causes more recoil damage (1.5% → 1.8%).
It causes less recoil damage (1.8% → 1.5%).
Hitboxes
[
edit
]
The move's true base damage is specified in its parameters, and ranges from 4% to 33% based on charge. More specifically, its base damage is equal to 4 + 29 * (charge frames / 150). A smash input causes the move to start off with 20 charge frames.
ID
Part

Rehit rate

Damage

SD

Angle

Angle type

BK

KS

FKV

Set weight

Radius
Bone

Offset

H×

SDI×

T%

Clang

Rebound

Effect
Type

G

A

Sound
Direct

Hit bits

Hit part

Blockable
Reflectable
Absorbable
Flinchless

No GFX

Heedless

0
0
0
1.0%
0

Forward

15
90
0
3.2
top
0.0
3.3
4.0
1.0×
1.0×
0%
Electric
No floor
All
Pichu receives 1.5% recoil damage on frame 17. The move enables ledge grabs from the front starting on frame 25, and from behind starting on frame 54.
Additionally, when the move is charged, releasing it incurs an additional delay that increases proportionally to its charge level, with its specific duration in frames being equal to 10 * charge frames / 150 rounded down, for a maximum of 10. This delay does not apply if the move is partially charged via smash input without holding the button.
| | |
| --- | --- |
| Charges between | 13-14 |
| Hitbox | 17-52 |
| Interruptible (grounded) | 97 |
| Interruptible (aerial) | 87 |
| Animation length (grounded) | 109 |
| Animation length (aerial) | 106 |
| | |
| --- | --- |
| Interruptible | 27 |
| Animation length | 49 |
Parameters
[
edit
]
| | |
| --- | --- |
| Horizontal speed multiplier on startup | 0.8 |
| Friction during startup and charge | 0.02 |
| Gravity during startup and charge | 0.05 |
| Total charge time | 150 frames |
| Starting charge with smash input | 20 frames |
| Maximum release delay by charging | 10 frames |
| Base damage | 4% to 33% |
| Initial horizontal speed on release | 1.8 to 5 |
| Initial vertical speed on release | 0.21 to 0.4 |
| Gravity on release | 0.011 |
| Fall speed on release | 0.8 |
| Initial angle when used on slope | 10° |
| Angle influence by slope | 0.3 |
| Horizontal speed on hit | -0.6 |
| Vertical speed on hit | 1.6 |
| Gravity after hitting | 0.1 |
| Horizontal speed multiplier on ending | 0.7 |
| Ending friction | 0.05 to 0.08 |
| Ending gravity | 0.11 |
| | | | |
| --- | --- | --- | --- |
| | | | Pichu's moveset |