Pichu (SSBU)/Forward tilt
From SmashWiki, the Super Smash Bros. wiki
Jump to navigation
Jump to search
This article or section may require competitive expertise.
You can discuss this issue on the talk page or edit this page to improve it.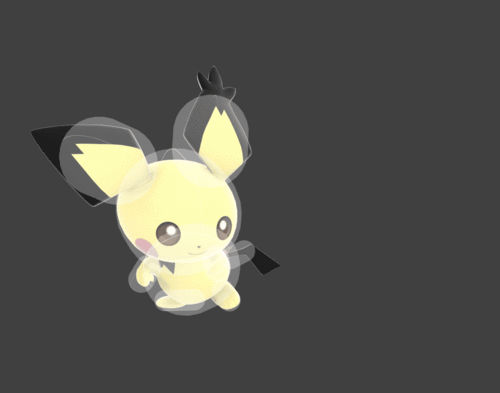 Overview
Update History
Forward tilt has less knockback scaling (150 → 130).

This also allows it to trip opponents at a wider percent range.

It causes more recoil damage (0.7% → 1%).
Hitboxes
ID
Part
Damage

SD

Angle

BK

KS

FKV

Radius
Bone

Offset

SDIx

FFx

T%

Clang

Rebound

Type
Effect

G

A

Sound
Direct
Early hit
0
0
8.0%
0
5
130
0
3.5
footl
0.0
0.0 to -4.5
0.0
1.0x
1.0x
100%
Electric
Mid hit
0
0
8.0%
0
5
130
0
3.5
footl
0.0
0.0 to -4.5
0.0
1.0x
1.0x
100%
Electric
1
0
8.0%
0
5
130
0
3.0
footr
0.0
0.0 to -3.7
0.0
1.0x
1.0x
100%
Electric
Late hit
1
0
8.0%
0
5
130
0
3.0
footr
0.0
0.0 to -3.7
0.0
1.0x
1.0x
100%
Electric
Timing
| | |
| --- | --- |
| Early hit | 5-8 |
| Mid hit | 9 |
| Late hit | 10-12 |
| Interruptible | 25 |
| Animation length | 39 |
| | | | |
| --- | --- | --- | --- |
| | | | Pichu's moveset |