Link (SSBU)/Forward throw
From SmashWiki, the Super Smash Bros. wiki
Jump to navigation
Jump to search
This article or section may require competitive expertise.
You can discuss this issue on the talk page or edit this page to improve it.
Link forward throw hurtbox and hitbox visualization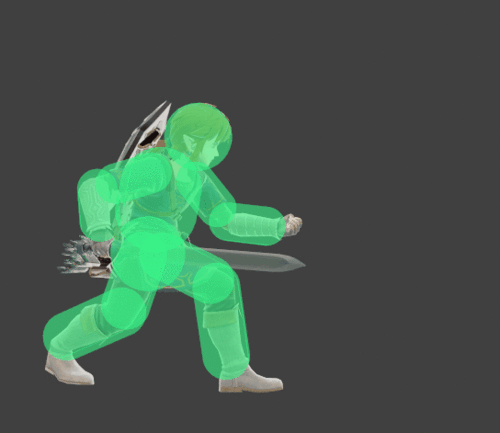 Overview
Kick hitlag anomaly
Against Mr. Game & Watch, the kick's hitbox will not connect until the same frame as the throw, and due to the throw dealing more knockback, its hitlag (which is none) overrides that of the kick, and thus only Link suffers hitlag. This has the effect of increasing the effective lag of the throw.
Throw and Hitbox Data
ID
Part
Damage

SD

Angle

BK

KS

FKV

Radius
Bone

Offset

SDIx

FFx

T%

Clang

Rebound

Type
Effect

G

A

Sound
Direct
Hitbox
0
0
3.0%
0
55
55
0
3.8
kneer
0.0
0.0
0.0
1.0x
1.0x
0%
Kick
1
0
3.0%
0
55
55
0
3.8
kneer
3.5
-0.5
0.0
1.0x
1.0x
0%
Kick
ID
Damage
Angle

BK

KS

FKV

FFx

Type
Effect
Sound
Throw
0
2.5%

Standard

75
85
0

None

None
Timing
| | |
| --- | --- |
| Invincibility | 1-13 |
| Hitbox | 12-13 |
| Throw Release | 13 |
| Interruptible | 38 |
| Animation length | 56 |