Snake (SSBB)/Down throw
From SmashWiki, the Super Smash Bros. wiki
Jump to navigation
Jump to search
Overview
[
edit
]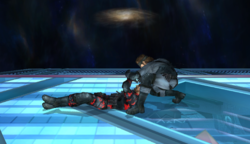 Snake puts the opponent in a sleeper hold, while gently laying them down on the floor. This throw leaves the opponent in a knocked down state, regardless of their damage, while dealing 12% in damage. Once the throw ends, the opponent and Snake can act instantly. A very effective tech chase move, that deals high damage for a throw, while putting the opponent in a vulnerable position where Snake can successfully followup anything they do if he can read them. Snake can easily regrab the opponent if he successfully reads their getup option, where he can use down throw on them again, creating a pseudo-chain throw. If the player can read their opponent's every action out of down throw, they can potentially infinite the opponent.
Down throw can also be easily followed up by other moves. A common followup is to simply forward tilt the opponent out of down throw, which with the speed and large reach of f-tilt, can easily cover any getup option, and with both d-throw and f-tilt fresh, this followup will deal a very large total of 33% in damage (which is about a fourth to a third of an opponent's stock towards KO percentage against Snake). Another common followup is to up tilt the opponent, which can easily cover any getup option outside a roll away from Snake, while KOing the opponent in the 90-120 range. With use of Snake's explosives, the opponent can also be trapped by down throw, where the player can then pressure them into acting how they want the opponent to act, leading to an even easier read to followup down throw.
If used on an opponent who is offstage as the throw ends, they simply immediately go into a falling state, completely free to act.
With its immense versatility and the raw damage output of the move, and its ease of varied followup options at any damage, it's considered one of the best throws in Brawl. The move is an important part of Snake's metagame, where it's heavily utilised to rack up damage, refresh Snake's other moves, and setup KOs. It is especially vital in his matchup against Olimar and King Dedede, two characters who Snake has difficulty with, but have very poor getup options that leave them heavily vulnerable to Snake's down throw.
Throw data
[
edit
]
ID
Damage
Angle

BK

KS

FKV

Bone

SDIx

FFx

T%

Type
Effect
Sound
0
12%

Backwards

75
30
0
0
1.0x

None

0%
None
1
5%

Forwards

60
100
0
0
1.0x

None

0%
None
| | |
| --- | --- |
| Invincibility | 1-8 |
| Throw | 59 |
| Animation length | 59 |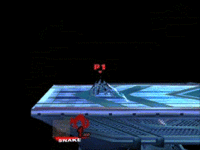 If this move is performed on a CPU while near the edge of the stage's platform, they will always roll towards the nearest edge the instant they can act. This results in it being extremely easy to infinitely chain throw them near the edge with this move, which can easily be done until they reach KO percentage, where they can then be simply up tilted for the KO.
| | | | |
| --- | --- | --- | --- |
| | | | Snake's moveset |